ArticleContent
3 Reasons Why Veterinarian-Formulated CBD is the Best CBD for Pets

By Erica DeLoach | Published June 8, 2021
Looking to buy CBD oil for your dog?
Are veterinarian-formulated pet CBD products the safest, most effective way to share hemp with our furry friends? Baileys CBD breaks down 3 reasons why it's the healthiest option!
Can Dogs Take Human CBD Oil For Anxiety & Other Conditions?
Many people and pets alike are now finding relief and health support through CBD and hemp. A popular question we often get: is human CBD ok for dogs?
While most human CBD oil is likely safe for pets depending on the company and product, CBD for pets is most effective and safe when pet CBD products are formulated by a veterinarian.
Many CBD companies rebrand their human CBD oil line as pet CBD oil, using the same ingredients and/or milligram amount. This can be an issue because although CBD interacts with both human and animal Endocannabinoid Systems in very similar ways, our bodies are still different. Animals are smaller, and their bodily systems are more delicate. They also can't directly communicate what feels best for them, although they try.
Veterinarian-Formulated CBD for Pets
The Baileys CBD team is proudly partnered with Dr. Robert Silver, a licensed veterinarian from Colorado. We believe that veterinarian-formulated pet CBD offers the highest quality, best CBD for pets and provides the most hemp benefits for dogs, cats, & other pets. We work closely with Dr. Silver, learning as much as we can about the CBD benefits for pets and finding what works best for each pet. All of our pet CBD products are made under his strict guidance and scrutiny, coming with his suggested dosage and usage guide.

Veterinarian-formulated CBD oil for dogs and CBD oil for cats provides a safe, effective product focused on supporting pet health.

1. Veterinarian-Formulated Pet CBD Ensures Safe Potency & Proper Usage
CBD for dogs and CBD for cats are made exactly for that - for dogs and cats! Pet CBD is specifically made for animal health with that animal in mind. Not only are veterinarian-formulated CBD products for pets made with pet health knowledge, they're especially made with a deep understanding of hemp and the CBD benefits for dogs & cats.
Instead of relabeling human CBD oil as CBD oil for pets, it's important for companies to work with veterinarians to create a line for pet CBD only. This way, hemp for pets is non-intoxicating, safe, and effective by ensuring proper potency for safe dosing.
Dogs, cats, horses, and pets often don't need as much CBD as we do. This, of course, varies for each pet, just as it does for each person. How much CBD to give your dog depends on their personal needs and symptoms. However, many experienced veterinarians suggest starting with smaller doses and slowly increasing it after a week or two if not seeing the desired results. Since our pets' bodily systems are smaller, CBD usually gets in their bloodstream more quickly.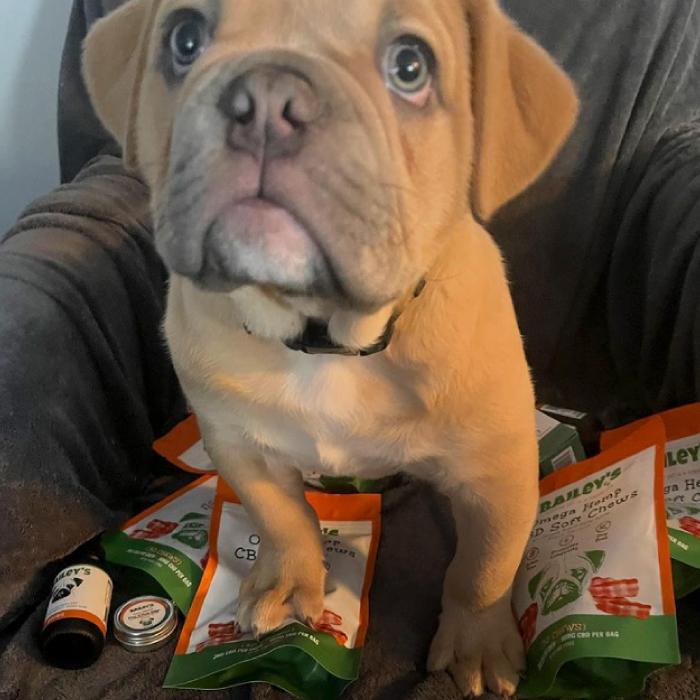 Human CBD oil has a higher concentration than CBD oil for pets, so many types of human CBD oil are often too strong in potency for pets. Giving pets some human CBD may leave them extra groggy, sedated, or sometimes even a little "high". The concentration of pet CBD products are intentionally formulated for our pet's body, so the hemp CBD oil dosage for dogs is appropriate and not overwhelming.

Many human CBD oils contain cannabinoid and other hemp compound ratios, including varying amounts of THC. High THC is not a compound that works well with our furry friends like it does with some humans. Veterinarian-formulated pet CBD ensures safe dosing and potency in CBD for pets. It confirms that THC levels are below the legal level of 0.03% and derived from industrial hemp meant for non-intoxicating use.
The best CBD for pets comes from companies who know what they're doing and care about how they affect the community. Quality pet CBD should not get your pet high or be toxic.
2. Veterinarian-Formulated Pet CBD Ensures Overall Product Quality
Some human CBD oils have additional ingredients intended for human consumption. As pet parents well know, not all human-safe foods are pet safe. We've all been there Googling stuff like "can dogs eat mango" or "can dogs eat cinnamon" whether out of curiosity or duress. (Also the answer to the previous questions are generally yes, depending on your pup, but in moderation and under proper guidance - always consult a trusted veterinarian!)
With veterinarian-formulated CBD for pets, parents don't have to worry about the stressful Google search to make sure what our pet just ate is OK. Veterinarians ensure the quality and safety of the CBD itself - and make sure the product contains ingredients focused on pet health and overall well being.
Partnering with veterinarians to make CBD oil for dogs, cats, and other pets gives veterinarians the opportunity to use their specific, tailored pet health knowledge and professional experience to intentionally choose ingredients that maximize health & CBD benefits in pets.
3. Veterinarian-Formulated Pet CBD Ensures Consumer Accessibility
If a pet CBD product is veterinarian-formulated, it is made by a professional who understands the hemp benefits for dogs, how much CBD to give your dog, and how often to give CBD to your pet.
Veterinarian-formulated pet CBD products should come with a guide or instructions on how to give CBD to your dog, cat, or pet. This makes CBD dosing for dogs and picky pets much less overwhelming or confusing.
Because of Dr. Silver's guidance, Bailey's CBD is intentionally calibrated. Bailey's CBD oil for dogs and CBD oil for cats all come with his accessible guide with tips on usage and dosage. Baileys CBD helps parents learn as much about hemp for pets as possible and makes using CBD for pets easy.
Bailey's CBD oil for dogs is calibrated at 10mg/ml for our regular strength oil and 30mg/ml for our extra strength 2:1 CBD:CBG oil. Dr. Silver's suggested dosing guide helps parents know exactly how much CBD is in each individual droplet, as well as every line on the dropper with an accompanying weight guide broken down by 3 tiers.
These tiers include starting maintenance CBD doses for dogs' long-term, proactive wellness. They also include higher-strength medicinal CBD dosing for dogs who are ill or need more CBD for pain relief.
Looking to buy Extra Strength CBD oil for your dog?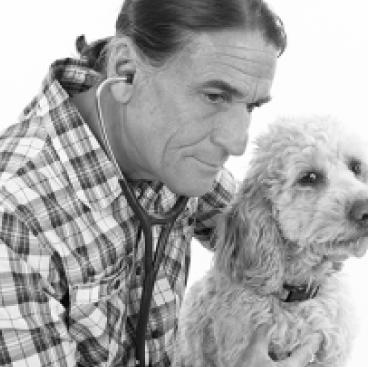 How Much CBD For Dogs?
CBD dosage for dogs, cats, and pets may vary. If not seeing the desired pain relief or effects, many increase the dosage after a week or two. It may take time to find what works best!
Veterinarian Dr. Robert Silver suggests a starting dose of 1mg/10lb twice a day, observing pet behavior, and adjusting the dosage accordingly after one week if needed. If after a second week, your pet's still not experiencing the desired results, Dr. Silver recommends adjusting the dosage again if necessary. Here is a link to his suggested tier CBD doses for dogs! Always consult a local veterinarian before trying new pet CBD products.
No matter the CBD dose for dogs or cats, consistency is vital when it comes to CBD for pets. When taken daily, research shows how CBD may help promote homeostasis, prevent future issues, and be more effective with treatments.
Baileys CBD For Pets
Baileys CBD is happily committed to making the highest quality, best CBD for pets, which is made possible by our veterinarian partnership. Dr. Silver has years of CBD clinical research experience with cats, dogs, and horses. He is certified in veterinary acupuncture, has 40 years of experience helping pets with complex chronic diseases, and has published many writings.
Dr. Silver blends the best alternative therapies with the best standard conventional medical diagnostics & therapeutics to improve pet patient health. He established Boulder's Natural Animal as one of the first integrative US veterinary practices in the US that still helps guide and act as a model for current integrative veterinary practices. Baileys CBD proudly partners with him to make the highest quality, best CBD for pets that is specifically formulated for their bodies.

Bailey's CBD subcritical C02 full spectrum hemp extract is single-sourced from our USDA organic small family farm partner Moon Mother Hemp Co. in Boulder, CO. Mother Moon Hemp is known for growing medicinal grade hemp instead of the less therapeutic industrial variety. Their hemp is organically grown without pesticides, hand harvested, and hung to dry.

Lab Tested CBD For Pets
All Baileys CBD products are natural, made with certified organic hemp, and contain no additives or preservatives. After being made under the guidance of Dr. Silver, Baileys CBD for pets products are always third party lab tested. Lab testing CBD for pets ensures the pet CBD contains the advertised milligram amount of CBD and contains no harmful additives, solvents, or pesticides.

Each Bailey's CBD product has a lot number and QR code for certificate of analysis results. Veterinarian-formulated pet CBD products we offer include: a dog CBD balm, CBD pet shampoo, CBD oil for dogs, CBD oil for cats, CBD:CBG oil for pets, hemp chews for dogs, and hemp pellets.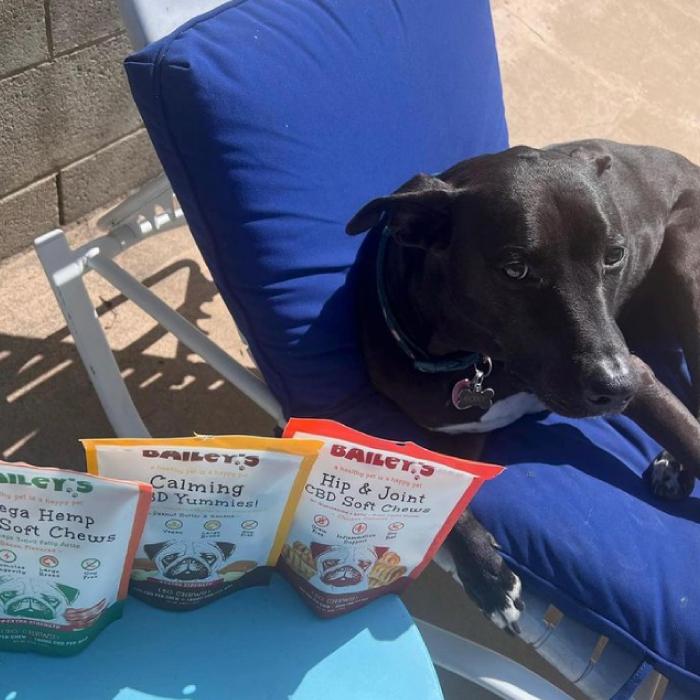 Looking to buy CBD Balm for your pet?
Baileys CBD For Pets Topical Products
Our topical pet CBD products include Baileys CBD balm for dogs and our CBD pet shampoo. Pet CBD topicals help soothe hot spots, skin issues, allergic reactions, and more immediate pain relief in localized areas. Topical CBD for pets often works best when paired with internal hemp, like CBD oil for pets or CBD pet treats.

Baileys CBD Paw Balm
As the name implies, Bailey's Hemp Infused Paw & Nose Balm is used regularly for the nose and paws. Our dog's nose is one of their most important organs contributing to their sense of smell and overall bodily function. And although wear & tear on paws is normal, dry and cracked paws cause our dogs pain and discomfort. Our CBD paw balm is regularly used for hot spots, CBD for dogs with arthritis pain, and other skin irritations.
Baileys CBD paw balm contains 200mg of full-spectrum hemp extract with high amounts of naturally-occurring CBD. It also has beeswax, sunflower seed oil, shea butter, and aloe leaf juice for additional healing support and inflammation relief.
CBD Pet Shampoo

Our ph-balanced CBD pet shampoo is specifically formulated for dogs and cats with sensitive skin. Bailey's CBD Pet Shampoo is cruelty-free, & vegan with no added sulfites, gluten, phthalates, or parabens. It contains 300mg CBD from full-spectrum hemp extract, organic aloe, provitamin B5, avocado oil, and colloidal oatmeal extract.
Looking to buy CBD Shampoo for your Pet?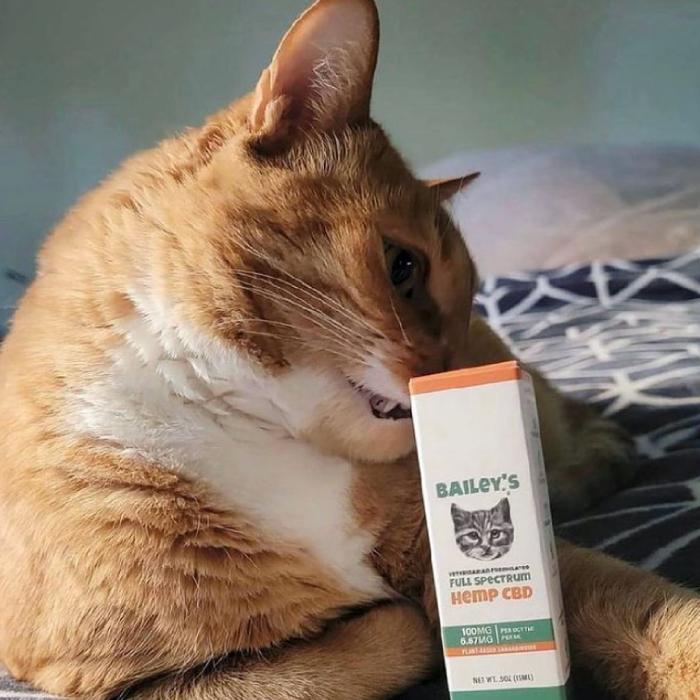 Bailey's CBD Oil For Dogs and CBD Oil For Cats
Hemp oils for dogs and cats offer pets concentrated, potent amounts of CBD in one dose. Parents can place the oil directly in their pet's mouth, food, or on a paw to be licked off at their pet's discretion (we know how cats get).
Hemp oil benefits for dogs are the same as CBD dog treats, although it's usually easier to give larger CBD doses for dogs with oil.
Bailey's full-spectrum hemp oil for pets is non-intoxicating and made with naturally-occurring CBD. We also carry an extra strength 2:1 CBG oil for pets. Known as "the mother of all cannabinoids", CBG plays a big role in hemp's healing benefits.
Bailey's CBD Pet Treats

More veterinarian-formulated pet CBD products include Bailey's CBD chews for dogs. Our CBD treats for dogs are cold-pressed and never baked, meaning they keep the abundance of naturally-occurring cannabinoids, terpenes, flavonoids, and other therapeutic properties in hemp. 
Easy to chew and vegan, all hemp soft chews are available in a small/medium breed variation (3mg CBD per chew) and a large breed/extra strength variation (6mg CBD per chew).
What Do Hemp Treats Do For Dogs

Hemp treats provide precise CBD doses for dogs and can be combined with other ingredients to strengthen overall therapeutic use. For some, it's an easier way to give their dog CBD.
Baileys CBD dog treats are currently available in three types focused on wellness, calmness, and mobility. Each hemp wellness dog chew has a blend that works together with CBD and other plant compounds for maximum effect.
All Baileys CBD chews for dogs are soft, soy-free, grain-free, and made with USDA organic full spectrum hemp oil.
Looking to buy CBD Omega Hemp CBD Soft Chews for your dog?
Committed To The Best CBD For Pets Near Me
Baileys CBD is constantly growing as a company, always learning more about hemp for pets and staying committed to making high quality CBD for pets that is veterinarian-formulated and lab-tested.
We offer a variety of pet CBD products that contain USDA organic full spectrum hemp with high amounts of naturally-occurring CBD. All Baileys CBD products contain less than 0.03% THC and are non-intoxicating. We value our veterinarian partnership for many reasons, including that it helps us provide the safest, best CBD for pets.
Visit us online or a local store to learn more. We want you to experience what we have with hemp for dogs, cats, and other pets! Baileys CBD works tirelessly to make sure every single pet CBD product is high quality and safe for pets - no exceptions, only exceptional CBD for pets who deserve the best.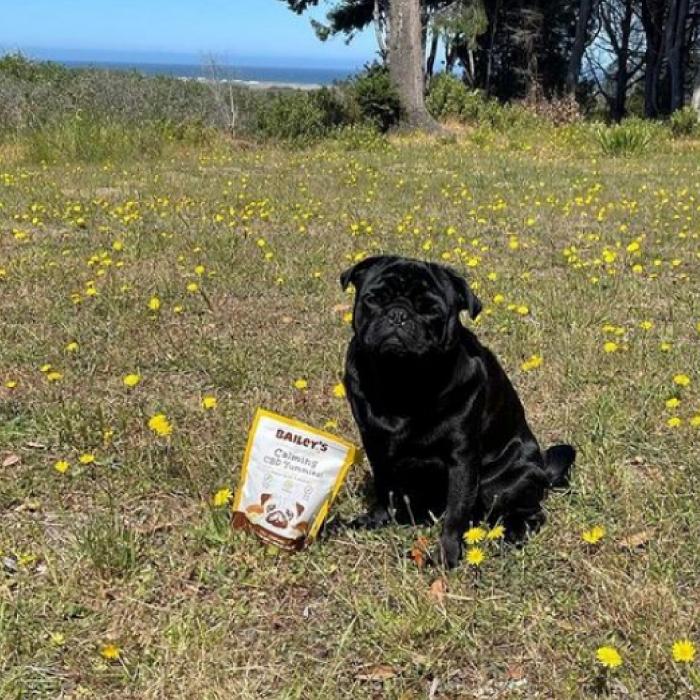 These statements have not been evaluated by the Food and Drug Administration. This article is not intended to treat, diagnose, or cure any condition. Please consult a licensed healthcare physician before consuming new supplements or herbs.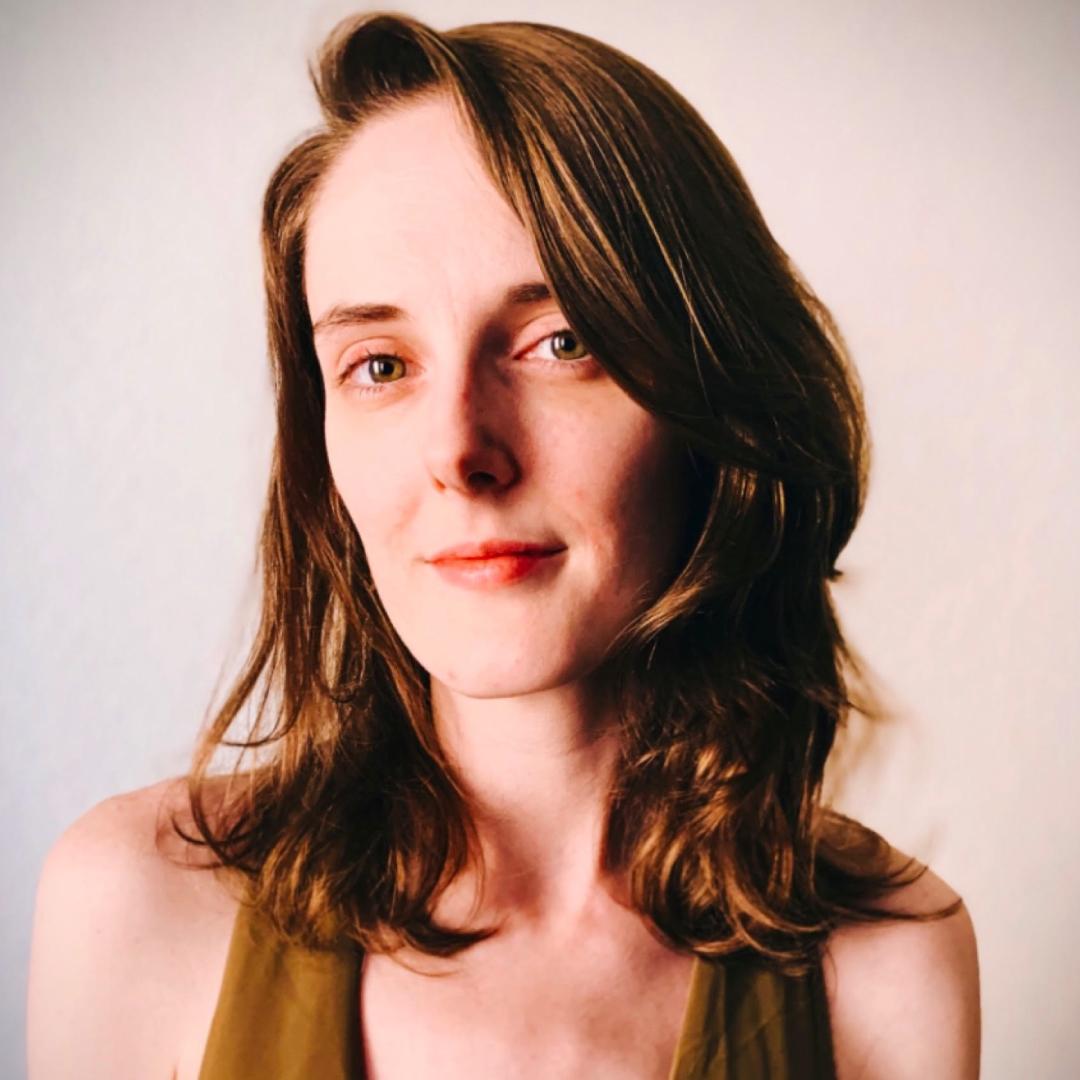 Article Written By:

Erica DeLoach
CMT | RYT 200 | MFA
www.vishuddhavision.com
Instagram: @vishuddhavision

Erica (they/them) is a non-binary disabled artist and educator passionate about creating accessible, inclusive, & equitable spaces. They are a certified massage therapist & TCM bodyworker, trauma-informed yoga teacher, voice coach, writer, cannabis educator, performing artist, media manager, and consultant.