ArticleContent
Best CBD For Dogs: How To Find The Best CBD Oil Brand For Dogs

By Erica DeLoach | Published June 16, 2022
Looking to buy CBD oil for your dog?
There are SO many pet CBD companies out there! It's hard to know where to start or who to trust. That's why we've put together a guide on how to vet brands and find the best CBD for dogs.

Third Party Lab Results: Testing All CBD For Pets

The first thing to look for when choosing the best CBD for dogs are third party lab test results.

Lab testing ensures the pet CBD contains the advertised potency, compounds, and CBD mg amount. It also ensures it doesn't contain heavy metals, pesticides, solvents, or other additives that may harm your pet's health.

Bailey's CBD for pets products are all third party lab tested. Each product has a lot number and QR code for certificate of analysis results.
Quality Of Hemp For Dogs
The quality of hemp oil for dogs largely depends on the hemp growing, harvesting, and manufacturing process.
Sourcing & Extraction
Sourcing and extraction play a huge role in the quality of hemp for dogs. Where and how the hemp is grown determines the overall potency.

Hemp extraction is sometimes done with solvents and chemicals that change hemp compounds or leave harmful traces in the final product. If the hemp is grown with harmful substances & pesticides or if it's not grown carefully, then it won't provide the medicinal benefits and will sometimes even do the opposite of what's intended.
Hand-Harvested Hemp For Dogs vs Machine-Harvested Hemp For Dogs
The way hemp is harvested makes a difference.  Many big pet stores or pet CBD companies use hemp that is machine-harvested. But hand harvesting helps preserve hemp quality, potency, flavor, and clean testing lab results.
All hemp plants are very unique and each requires intentional, careful handling. The plants need to be cut differently based on their strain and shape. Machines can't recognize these differences the way humans do. Machine-harvesting hemp often doesn't allow for this gentle handling, which destroys many of the delicate trichomes & plant matter farmers worked so hard to grow.
There is also more of a contamination risk with machines because they can hold residual pesticides.
Bailey's CBD Hemp Source
Bailey's CBD products are all natural, contain no additives or preservatives, and made with organically grown hemp, which is hand harvested & hang dried.

Our subcritical C02 full spectrum hemp extract is single-sourced from our USDA organic small family farm partner Moon Mother Hemp Co. in Boulder, CO. They're known for growing medicinal grade hemp instead of the less therapeutic industrial variety.
Manufacturing
The quality of the hemp oil for dogs itself is very important. But if a pet CBD product has additional, harmful ingredients, then it's not as effective or helpful. Hemp extract works best when paired with ingredients that are of equal quality.

Looking to buy Omega Hemp CBD Soft Chews for your dog?

CBD Dog Treats
Many big pet stores sell CBD dog treats and foods with inflammatory ingredients or common allergens that cause more health issues. Chronic inflammation can lead to serious underlying conditions and painful symptoms.
CBD treats for dogs are a tasty, fun way to get the CBD benefits for dogs. Treats offer specific CBD dosages for dogs and can be combined with other helpful compounds. Always look for hemp dog treats with quality, non-inflammatory ingredients.
Bailey's Dog Hemp Chews
Many hemp chews for dogs are also cooked in ways that change or destroy the raw hemp components.

Bailey's CBD dog chews are cold-pressed and never baked, keeping the natural abundance of hemp properties. We offer three CBD dog treat blends for wellness, calmness, and mobility. Each has quality, anti-inflammatory ingredients, full spectrum hemp extract with high amounts of CBD, and other ingredients for maximized effect. All are soft and accessible for safe chewing.

CBD Oil For Dogs
Hemp extract is usually paired with another oil as its base. MCT oil, coconut oil, and hemp seed oil are popular oil base choices.

Hemp oil for dogs allows more concentrated, potent doses of CBD for dogs. It's also easier for pups who may struggle with chewing, digestion, or are picky eaters. Simply place on a paw to be licked off, in food or treats, or directly in the mouth.
Bailey's Full Spectrum Hemp Oil For Dogs
Our single-sourced hemp extract is combined with fractionated coconut oil (MCT oil). One of the most effective mixing agents for CBD hemp extract for pets, medium chain triglyceride (MCT) fatty acids contain healthy saturated fats. Coconut oil has many benefits for dogs, like helping coat health, itchy skin, allergies, digestion, immune function, and flea & tick prevention.

Bailey's CBD oil for dogs comes in multiple strengths. Our dog CBD oil is calibrated at 10mg/ml for our regular strength oil and 30mg/ml for our extra strength 2:1 CBD:CBG oil.

Veterinarian-Formulated Pet CBD Products
Many companies simply rebrand their human CBD oil as dog CBD or cat CBD. Look for pet CBD companies who collaborate with veterinarians to ensure their pet CBD products are tailored to your dog's specific needs.
Baileys CBD works with licensed veterinarian, Dr. Robert Silver in Colorado. Dr. Silver has years of CBD clinical research experience on cats, dogs, and horses. He authored wrote the book Medical Marijuana and Your Pet, The Definitive Guide, peer-reviewed publication The Endocannabinoid System of Animals, and other writings. Dr. Silver is certified in veterinary acupuncture and has 40 years of experience helping pets with complex chronic diseases.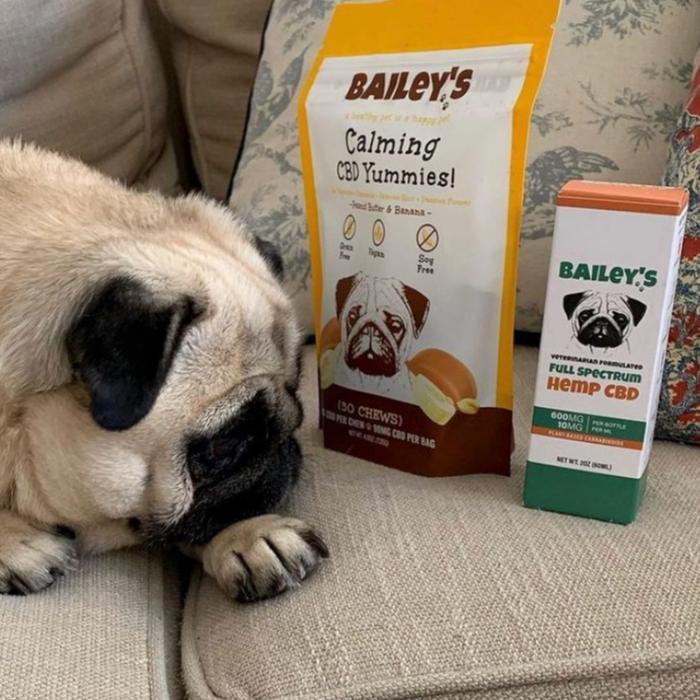 Dr. Silver blends the best alternative therapies with the best standard conventional medical diagnostics & therapeutics to improve pet patient health. He established Boulder's Natural Animal as one of the first integrative US veterinary practices in the US that still helps guide and act as a model for current integrative veterinary practices.

All Bailey's products are made under his assurance and strict scrutiny. Our full spectrum dog CBD oils come with his suggested dosing and usage guide. This guide includes starting maintenance doses for long-term, proactive wellness, as well as higher therapeutic dosing for ailing dogs or those in need of more CBD for pain relief.
Looking to buy CBD Oil for your dog?
Company Transparency
It's important to find a pet CBD company who cares, is transparent about their ingredients & manufacturing process, knowledgeable & open about hemp education, and actively gives back to the community. 
A willingness to educate, answer lengthy questions, give back, and ensure product quality guarantee is everything.
Community
Always look for multiple reviews from the community! If possible, try pet CBD products recommended by people you trust. Companies involved in the community show that they care more about patients over profits.
Education
Always look for companies who are knowledgeable about hemp and able to help customers feel safe & knowledgeable in using CBD for pets too! If a pet CBD company doesn't know much about hemp, they won't know how to make hemp for pets that is medicinal, safe, and beneficial.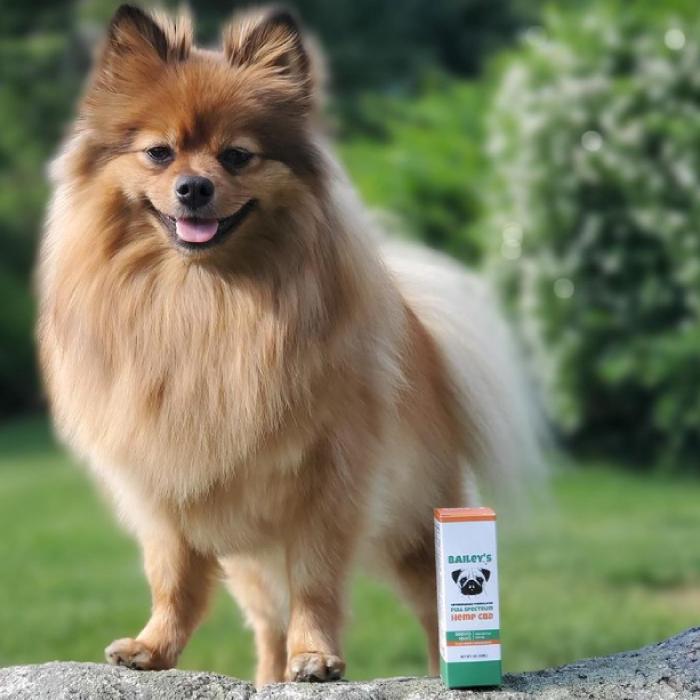 Listen To Your Pup!
Last but certainly not least! What does your dog like best?
Finding the best CBD for dogs means listening to what your pup likes most and noticing what works best for their body & routine.
Bailey's CBD is proud to be committed to all of the above and more:
Our hemp extract is hand-harvested and certified USDA organic

All ingredients and lab tests are listed with every pet CBD product

We work closely with Dr. Silver to understand hemp education & hemp for pets

We love answering any questions you may have!

We are very active with the local & online community! For every 4 bottles of CBD oil sold, we donate 1 bottle of dog CBD oil to a local shelter, which rotate regularly

Every order is backed by our 30 day satisfaction guarantee, so you can buy with confidence

All dog CBD products are pet approved by our senior pug Bailey!
Always aiming to learn more, we work hard to ensure our full spectrum hemp CBD for pets is the best of the best. We want you to trust our products as much as we do.
These statements have not been evaluated by the Food and Drug Administration. This article is not intended to treat, diagnose, or cure any condition. Please consult a licensed healthcare physician before consuming new supplements or herbs.
Looking to buy CBD for your dog?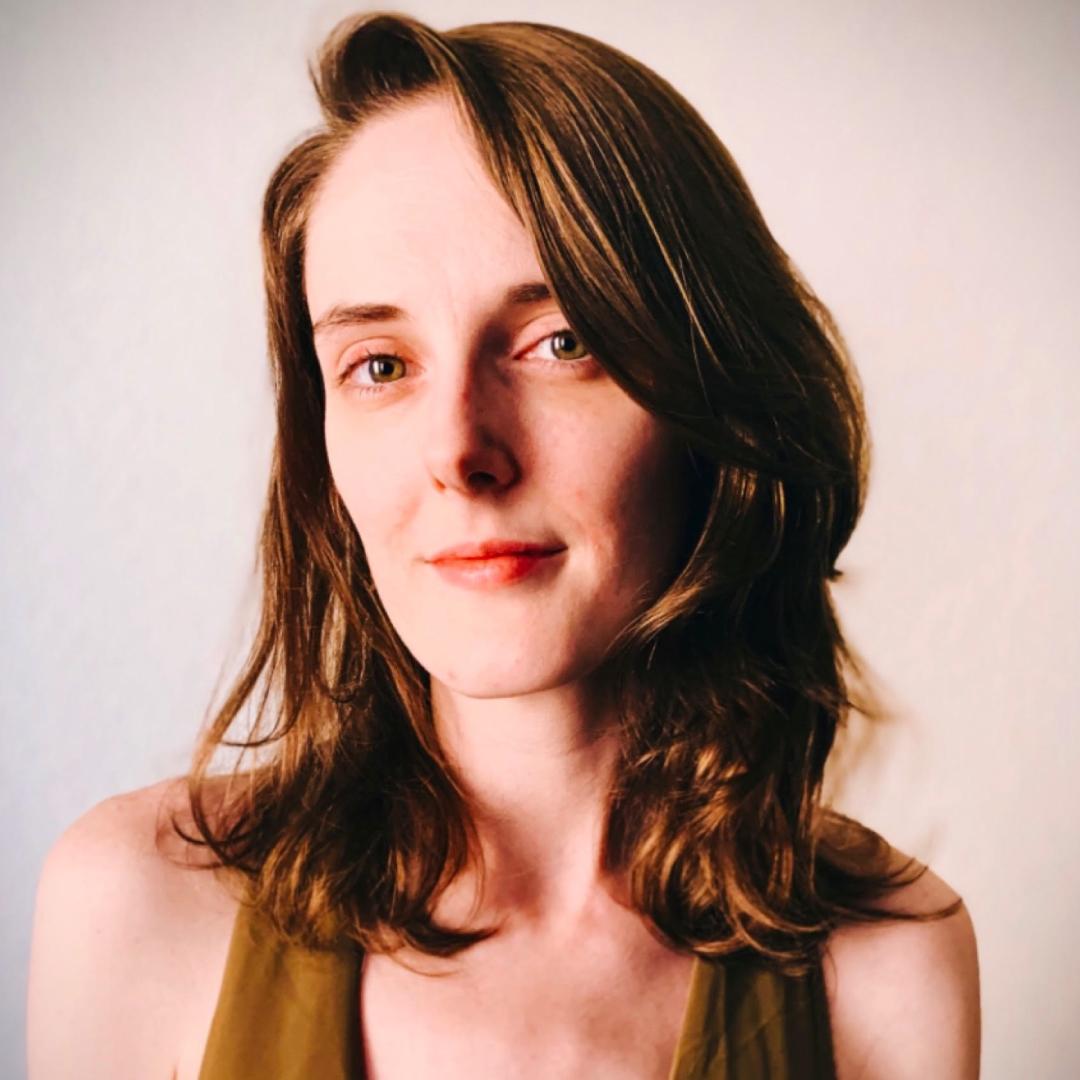 Article Written By:
Erica DeLoach
CMT | RYT 200 | MFA
Instagram: @vishuddhavision
Erica (they/them) is a non-binary disabled artist and educator passionate about creating accessible, inclusive, & equitable spaces. They are a certified massage therapist & TCM bodyworker, trauma-informed yoga teacher, voice coach, writer, cannabis educator, performing artist, media manager, and consultant.