ArticleContent
CBD for Dogs With Allergies and Itchy Skin
By Erica DeLoach | Published March 29th, 2022
Looking to buy CBD Shampoo for your dog?
1. CBD for Dogs With Allergies and Itchy Skin
Pet parents know how it goes.
When your pitbull puppy won't stop scratching or your German Shepherd Husky mix keeps repeatedly licking the same spot on their leg, we get concerned. The constant licking or scratching often causes inflammation, infection, injury, and more problems.
There are so many possible causes when our dog has itchy skin or allergies. We want to help them as fast as possible so they feel as good as possible.
2. What Causes Itchy Skin In Dogs?
Sometimes the answer is obvious; sometimes not. Itchy skin in dogs can be caused by an allergic reaction, food sensitivity, topical or environmental allergies, inflammation, hot spots, anxiety, uncomfortable bedding, or health conditions that exacerbate skin issues, allergies, and other symptoms.
Sometimes itchy skin in dogs is because they're anxious, stressed, or even bored.
3. Hot Spots In Dogs
Hot spots are a common skin disorder in dogs. Their appearance can be abrupt, irritating, and harmful to our pup's well-being.
Known as acute moist dermatitis, hot spots are localized areas of skin inflammation and infection. They can spread quickly and develop into large, oozing lesions. These lesions become hot, raw, red, and irritated; leading our pups to feel discomforted.
4. What Causes Hot Spots?
Hot spots are often worsened by licking, scratching, or chewing. There are many possible causes for hot spots in dogs:
Allergies (food & environmental)

Ear infections, bacterial infections, yeast infections

Insect bites

Pyoderma & other skin infections

Anxiety & excessive scratching, picking, or grooming

Bad habits

Poor grooming

Chronic or acute injury

Anal gland inflammation & infected areas

Orthopedic conditions & mobility issues
Although very painful, hot spots are treatable and usually preventable with proper care. CBD balms for dogs help soothe hot spots and are often used with CBD oil for dogs or CBD dog treats for maximum relief.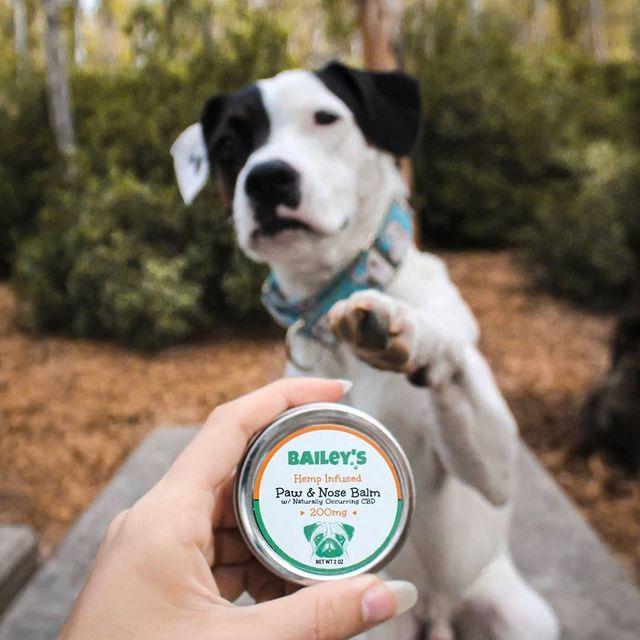 5. Allergies In Dogs
Like humans, dogs experience a variety of allergies that can be annoying and impact their health. These allergies may be related to food, environment, fabric, chronic or acute inflammation, or underlying health conditions.
Eczema in dogs and dog psoriasis are common autoimmune related disorders where overproduced cells form thick skin patches that become itchy and inflamed.
Since allergies are the immune system's response to substances, many focus on strengthening the immune system to help dog allergies as treatment and preventive care.
6. Hemp For Dog Allergies
Hemp is a favorite choice for humans suffering with allergies and skin conditions, so no surprise it's a favorite for pets too! Compounds from the hemp plant are known to promote immune function thanks to anti-inflammatory properties, so it's no wonder doggies are woofing for their Bailey's when their allergies flare. See below some pet parent favorites when it comes to finding relief.

7. CBD Oil For Dogs' Immune Systems
No matter the specific cause, allergies deal with a disrupted Endocannabinoid System (ECS).
The ECS heavily regulates our dog's immune system and countless physiological functions. It controls and helps vital bodily systems communicate. The ECS maintains homeostasis in dogs: a state of equilibrium that allows their body to combat stress, address changes, and prevent damage.
When our dog's ECS works efficiently, so does their immune system.
A weakened immune system disrupts the ECS and leaves our pup's body unable to protect itself from threats. This causes various health conditions, impacting mood, cognition, immune function, pain, sleep, digestion, hormone levels, and much more.
The immune system also balances inflammation and anti-inflammation. Excessive or chronic inflammation in dogs often happens when our dog's immune system is out of balance.
Looking to buy CBD Oil for your dog?
8. CBD For Inflammation In Dogs
Inflammation is a necessary response the body uses to protect and heal itself.
Our dog's immune system contains white blood cells that fight infections and harmful stimuli. When injured, white blood cells accumulate at the site, attacking bacteria, viruses, and germs. Inflammation's purpose is to get rid of the damaged cells then start repairing.
Since white blood cells contain cannabinoid receptors and the immune system is heavily regulated by the ECS, many use CBD and other hemp compounds to help balance inflammation and immunity.
Pet parents use CBD as needed for pain, allergic reactions, itchy skin, and inflammation. But many also use CBD oil for dogs daily to prevent future issues and promote a healthy ECS.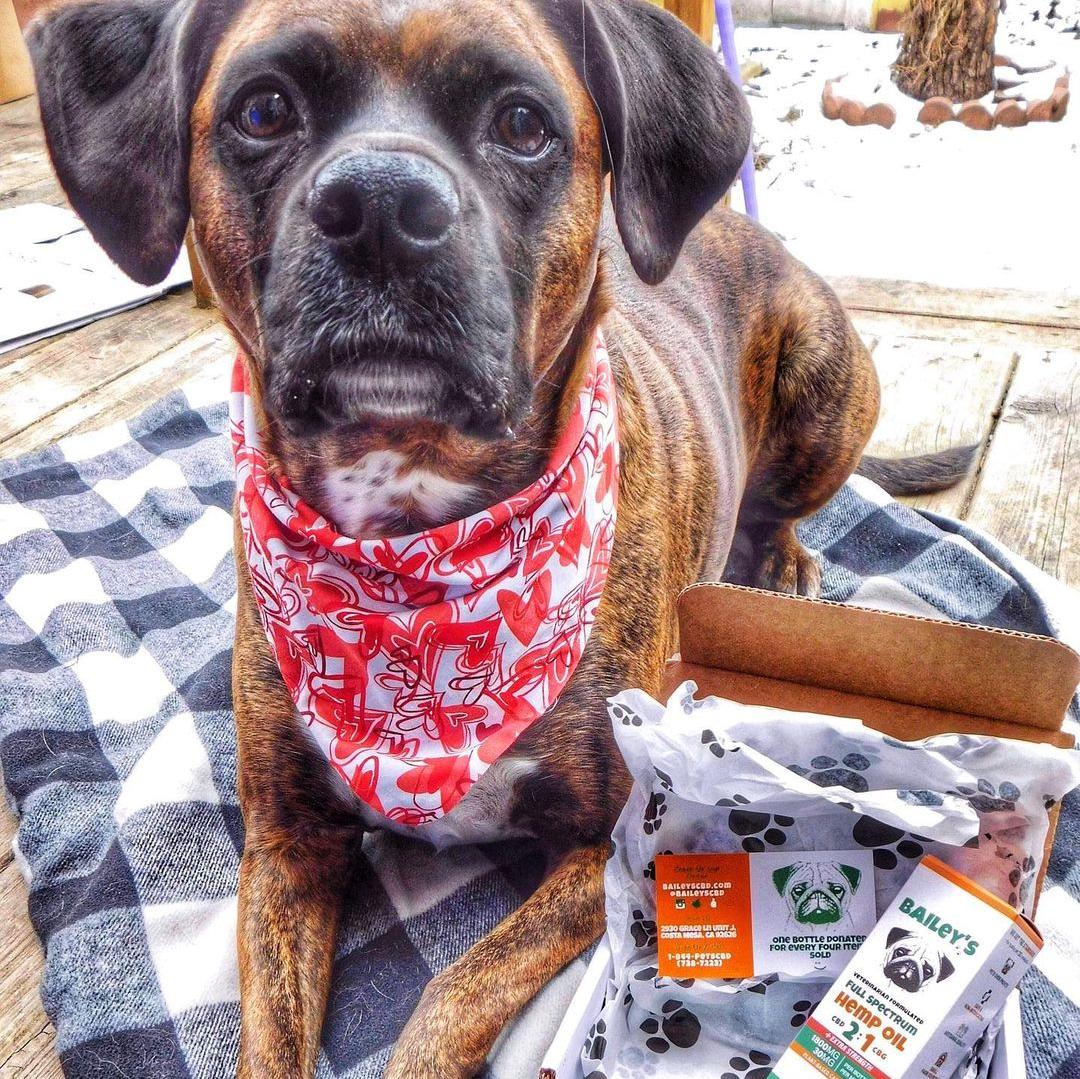 9. CBD For Itchy Dogs
Using both CBD pet balms and internal CBD pet products is often most effective for many.
Although CBD pet topicals can soothe localized areas, CBD oil for dogs and CBD treats for dogs focus on the whole body's well-being instead of just the symptoms. Regularly consuming CBD hemp oil for dogs or dog hemp chews may help prevent recurring problems and support CBD pet balm effectiveness. 
We recommend combining a CBD pet shampoo and hemp dog balm with CBD oil for dogs & CBD dog treats for maximum overall effect and inflammation relief.
Looking to buy CBD Balm for your dog?
10. CBD Balm For Dogs
Hot spots, allergic reactions, and skin irritations can become inflamed. That inflammation worsens over time, usually from excessive licking. This can lead to an infection or worse.
Our hemp dog balm with naturally-occurring CBD is a favorite choice for dogs with hot spots, inflammation, or skin frustrations. Put directly on the affected, cleaned area as needed.
Other reasons pet parents choose our balm are:
Dry nose relief

Dry paw relief

Rash relief

Cracked/affected area relief

Wound care

Wart relief

Topical inflammation relief

Reducing skin irritation
Bailey's Hemp Infused Paw & Nose Balm contains 200mg of single-sourced, full-spectrum hemp extract from a hand-harvested hemp. It contains beeswax, sunflower seed oil, shea butter, and aloe leaf juice for extra soothing.
11. CBD Pet Shampoo For Dogs
Giving your dog baths with CBD dog shampoo is another way to help soothe irritated skin and support their health. Bailey's ph-balanced CBD pet shampoo is formulated for dogs and cats with sensitive skin. Reasons dogs love Bailey's CBD Pet Shampoo include:
Itchy skin relief

Flea & tick side effect treatment

Redness reduction

Skin allergy relief

Hot spot relief

Natural regular cleanser & anti-infective
Our CBD dog shampoo is cruelty-free, third party lab-tested, and vegan with no added sulfites, gluten, phthalates, or parabens. It contains 300mg CBD from full-spectrum hemp extract, organic aloe, provitamin B5, avocado oil, and colloidal oatmeal extract.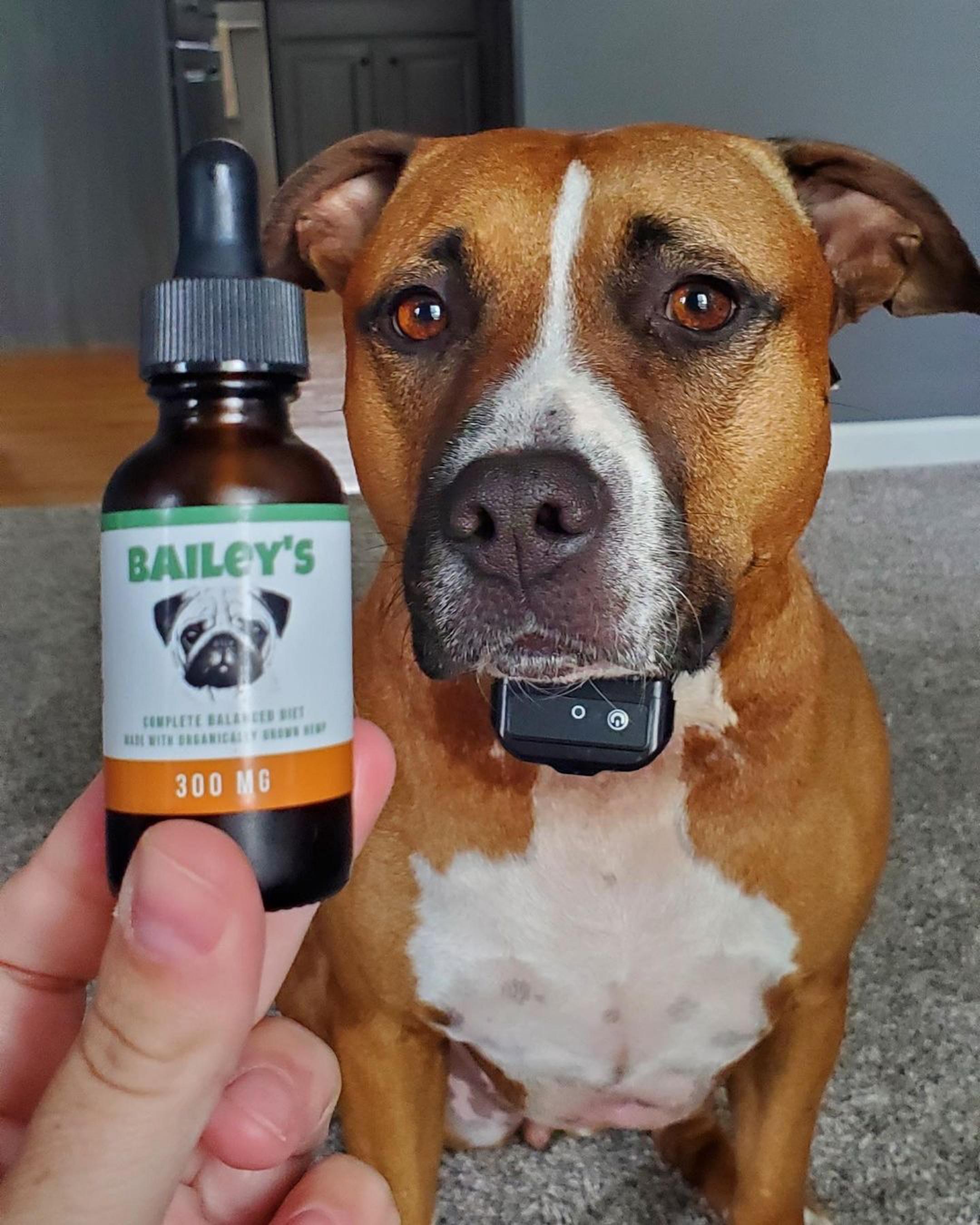 12. CBD Treats For Dogs
CBD dog treats are a fun way to give your dog cannabinoids! Easy to dose and tasty, this is a preferred method for many parents and dogs alike.
Bailey's CBD soft chews for dogs are cold-pressed, maintaining all the naturally-occurring cannabinoids, terpenes, flavonoids, and other therapeutic properties in hemp. It's important to do your best to avoid baked CBD dog treats since the heat will remove many of the minor properties from full spectrum hemp extract which are sensitive to temperature.
All CBD dog treats are vegan and available in a small/medium breed variation (3mg CBD per chew) and a large breed/extra strength variation (6mg CBD per chew).
Looking to buy Omega Hemp Soft Chews for your dog?
13. How Do Hemp Treats Work For Dogs? 
Full-spectrum hemp dog treats contain all of the cannabinoids, terpenes, flavonoids, and other hemp plant compounds. These compounds work in synergy, boosting each individual effect. This means they're stronger when together!
Hemp works in synergy with other plants and compounds too. Which is why we offer three types of CBD treats for dogs focused on wellness, mobility, and serenity.
If your dog tends to be an anxious scratcher or licker, we recommend our calming CBD soft chews for dogs. Peanut butter and banana flavored, Bailey's Calming CBD Yummies! contain a therapeutic blend focused on reducing stress and maintaining calmness.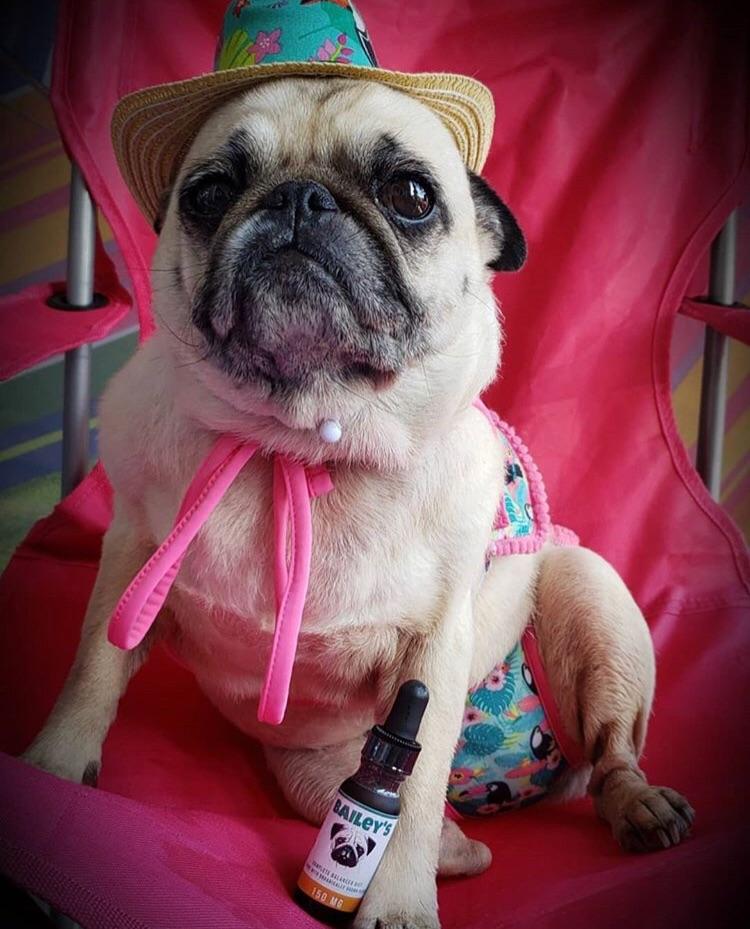 14. CBD Oil For Dogs
Full spectrum hemp oil for dogs offers potent, concentrated doses if desired. CBD oil for dogs is great for picky eaters and those who struggle chewing or digesting. Put a few drops in food, in the mouth, or on a paw to be licked off.
Bailey's offers CBD oil for dogs in three sizes & strengths and an extra-strength 2:1 CBD:CBG hemp oil for dogs for XL breeds and those who need maximum relief.
Every bottle of CBD oil for pets that Bailey's makes is veterinarian crafted under the advisory of Dr. Robert J. Silver, DVM.
Based in Colorado, Dr. Silver is a renowned clinical veterinarian and has been on the forefront of CBD research on animals for over three decades now.
It is important to get your pet CBD oil products from brands that are partnered with respected veterinarians and transparent third party lab tested hemp extract sourcing; because quality means everything.
CBD is a dynamic accumulator, meaning it absorbs heavy metals and impurities from the soil. This is why it is vital to look for products with third party lab testing results, not only for cannabinoid content; but also for heavy metals, pesticides, and residual solvents.
Every batch of Bailey's products are labeled with a lot number and third party lab tested for all of the above. This can be verified by scanning the QR code on the packaging or going to the lab results page on our website. And this is why Bailey's has been setting the standard for pet CBD since 2017.

15. Baileys CBD For Dogs
Allergies can be no fun. But we try to make CBD as fun, tasty, and high quality as possible for our furry friends.
All Bailey's CBD pet products are veterinarian-formulated & third party lab-tested to remove any consumer anxiety and provide the best CBD for pets.
Pick a time of the day to take your CBD together! Taking it together may help you remember to give your pet CBD consistently. Studies show that daily CBD use provides more effective results. Check out our blog to learn more about the CBD benefits for dogs, cats, and other pets.
These statements have not been evaluated by the Food and Drug Administration. This article is not intended to treat, diagnose, or cure any condition. Please consult a licensed healthcare physician before consuming new supplements or herbs.
Looking to buy CBD Oil for your dog?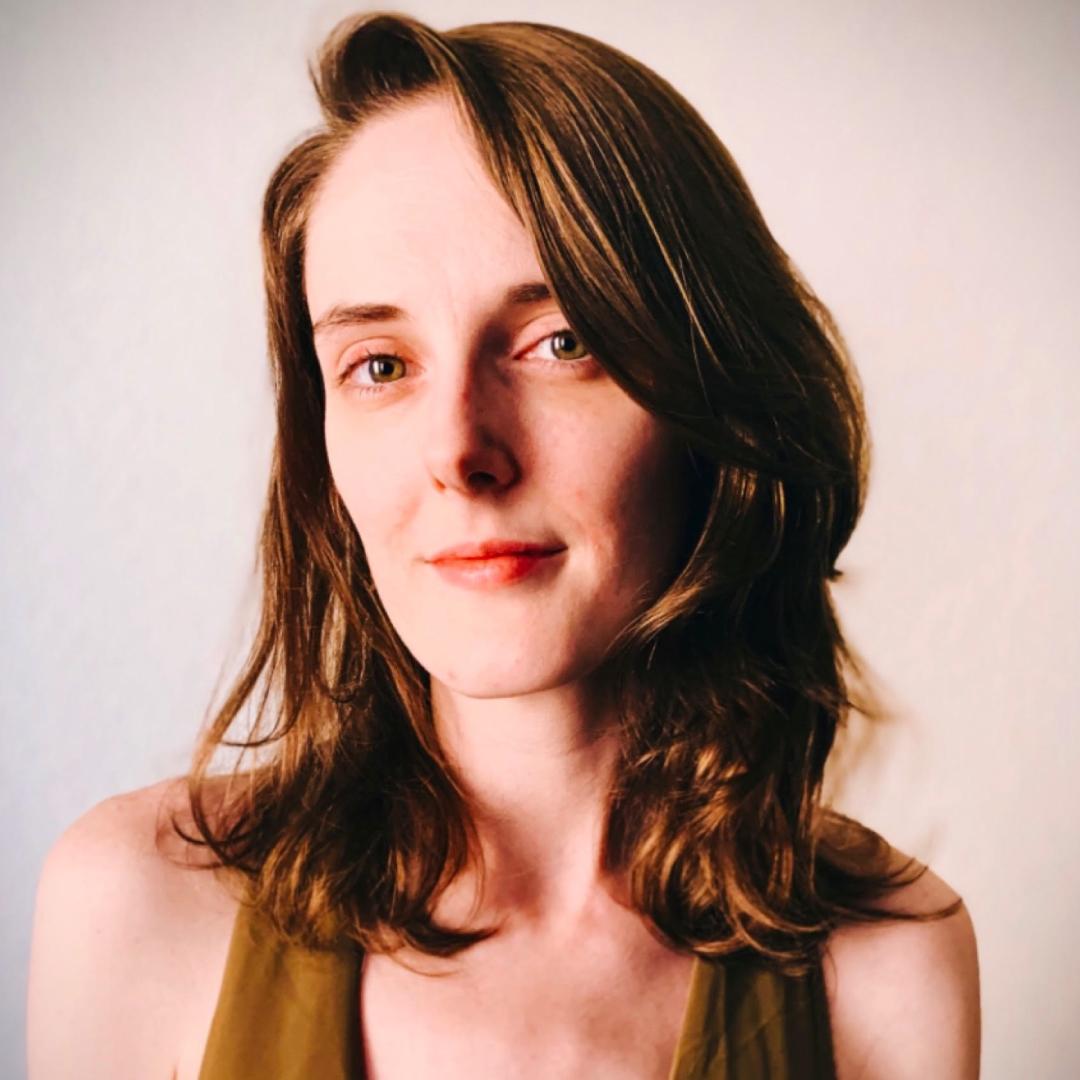 Article Written By:
Erica DeLoach
CMT | RYT 200 | MFA
Instagram: @vishuddhavision
Erica (they/them) is a non-binary disabled artist and educator passionate about creating accessible, inclusive, & equitable spaces. They are a certified massage therapist & TCM bodyworker, trauma-informed yoga teacher, voice coach, writer, cannabis educator, performing artist, media manager, and consultant.