ArticleContent
CBD For Dogs With Arthritis & CBD Benefits For Dogs With Bone Conditions

By Erica DeLoach | Published June 23, 2022
Looking to buy CBD oil for your dog?
Arthritis, osteoporosis, bone conditions, & joint issues affect dogs the same way as us. It's painful, limits their quality of life, and what's worse is they can't even tell us exactly what's wrong. They try their best, but our pups rely on us to pay attention and help them when needed.
We understand. We love our pets too and want to help other pawparents have happy lives with their fur babies. The Bailey's CBD team is committed to helping pets stay healthy and safe by making the highest quality, best CBD for pets as possible to help painful conditions like arthritis and more.

We try to be as knowledgeable and transparent as possible about hemp for dogs and the conditions & symptoms that CBD for dogs may help. Hemp education and knowledge about chronic or acute conditions is important to us. We work closely with Colorado veterinarian Dr. Robert Silver to make veterinarian-formulated pet CBD products and to ensure we understand the full hemp & CBD benefits for dogs.

First, What Is Arthritis?
Arthritis is a common & painful degenerative joint disease that worsens over time. It mainly affects weight-bearing joints, including the hips, knees, elbows, and shoulders. Arthritis can cause fluid loss, cartilage wearing away, abnormal bone growth, pain, stiffness, inflammation, and decreased mobility.
Bone Condition In Dogs
There are a variety of conditions that affect our dog's bone health, joint function, pain, and mobility. Some of the most common bone conditions that people use CBD oil for dogs include osteoporosis, osteoarthritis, panosteitis, osteochondrosis, and hip dysplasia.

Osteoarthritis
Osteoarthritis in dogs is a type of arthritis involving both joints and bone.
It is a degenerative joint disease where protective cartilage cushioning the ends of the bones breaks down through wear & tear. The joints rub together, causing stiffness, inflammation, and mobility issues. It can occur in any part of your dog's body, but the most common are the hips, knees, and lower back.
Osteoporosis
Osteoporosis in dogs is when bone loss occurs, potentially leading to fractures and breaks.
The significant decrease in bone density causes pain, high susceptibility to injury, and limited or lack of mobility.
Panosteitis
Panosteitis is inflammation of the surface of the long bones. Sometimes referred to as "growing pains", it can happen in one or more bones at a time. It primarily affects younger, quickly-growing dogs. It can affect any breed but especially affects larger dogs like German Shepherds, Labrador Retrievers, Golden Retrievers, and Great Danes.
Most panosteitis in dogs resolves around 2 years old, but CBD can be very helpful since it can be quite painful.
Osteochondrosis
Osteochondrosis in dogs is an inflammatory condition where cartilage abnormally develops at the end of a bone in the joint and separates from the underlying bone.
A developmental disease with unknown causes, it causes pain, limping, or an inability to walk on one or more legs.
Hip Dysplasia
Hip dysplasia in dogs is a skeletal condition that causes improper hip joint formation.
The hip joint functions like a "ball and socket". With hip dysplasia in dogs, the ball and socket don't fit or slide smoothly - instead they rub and grind together. This causes pain, joint wear, joint degeneration, inflammation, limited mobility, and joint function loss.
Fortunately many find that using CBD for dogs with arthritis, joint pain, bone conditions, and mobility issues helps improve their dog's pain, health, and quality of life.
Looking to buy CBD oil for your dog?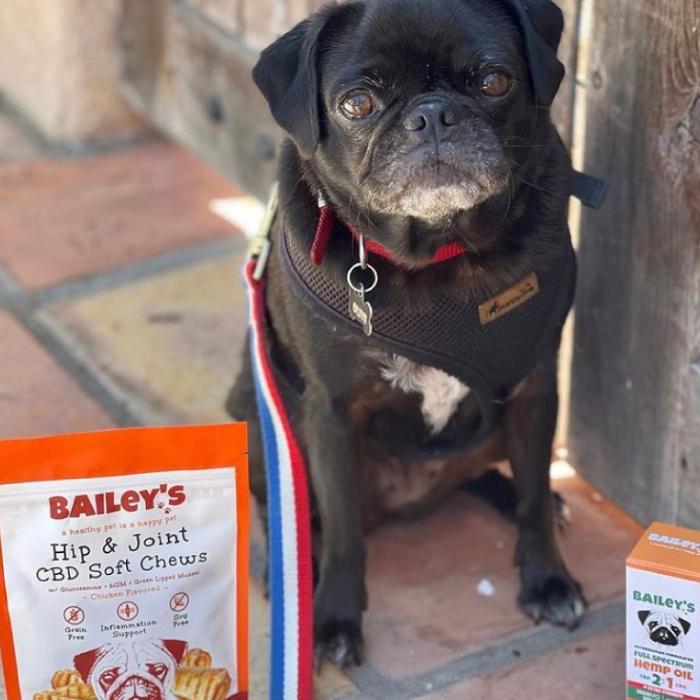 CBD For Dogs: Arthritis & Joint Pain
Studies show that CBD is a GPR55 antagonist, meaning it may help joint pain by decreasing bone reabsorption and cell proliferation. CBD binds to the TRPV1 receptor, which controls pain perception, body temperature, and inflammation. When it binds to TRPV1, it can influence pain and symptoms related to arthritis, joint pain, and mobility in dogs.
CBD can also influence how our pup's brain perceives pain. It interacts with receptors to help increase serotonin levels, which can help relax our dog's brain and body. 

Full-spectrum hemp for dogs is often used to relieve countless painful conditions and for proactive wellness due to its interaction with our dog's Endocannabinoid System. Many pet parents choose hemp for dogs to support their stress, muscle spasms, nerve pain, joint pain, inflammation, stiffness, and help prevent future conditions.

CBD For Dogs: Inflammation
Inflammation is largely associated with arthritis development and pain.
Research supports CBD can help reduce inflammation associated with arthritis through its interaction with our dog's Endocannabinoid System (ECS). CBD is also regularly used for lowering inflammation due to its interaction with white blood cells & its activation of the TRPV2 protein. 
Our dog's ECS regulates many vital functions, organs, and bodily systems by creating its own cannabinoids. When their body can't make enough cannabinoids, our dog's body becomes imbalanced, causing various health conditions, inflammation, and pain.
One system our pup's ECS heavily controls is their immune system - which controls the balance of inflammation. This is one way inflammation may become excessive or chronic. Chronic inflammation creates health problems that can affect joint pain, movement, wound healing, bone strength, and mobility. This impacts arthritis in dogs and leads to a lower immune system unable to protect the body against illness and injury.
CBD For Dogs: Bone Health
Research supports CBD's ability to help bone fractures and promote bone formation. The ECS plays a large role in how receptors are involved in bone remodeling. Studies explore how ECS receptors can help regulate bone mass and possibly help prevent the disease. Antagonists of cannabinoid receptors may help prevent bone resorption.
An overactive GPR55 receptor is associated with osteoporosis and cancer cell growth. This receptor helps modulate blood pressure, bone density, other physiological processes, and promotes osteoclast cell function.
CBD is a GPR55 antagonist, blocking GPR55 signaling.

Types of canine cancer can also cause bone diseases. Many use CBD oil for dogs with cancer to help relieve symptoms and support treatment.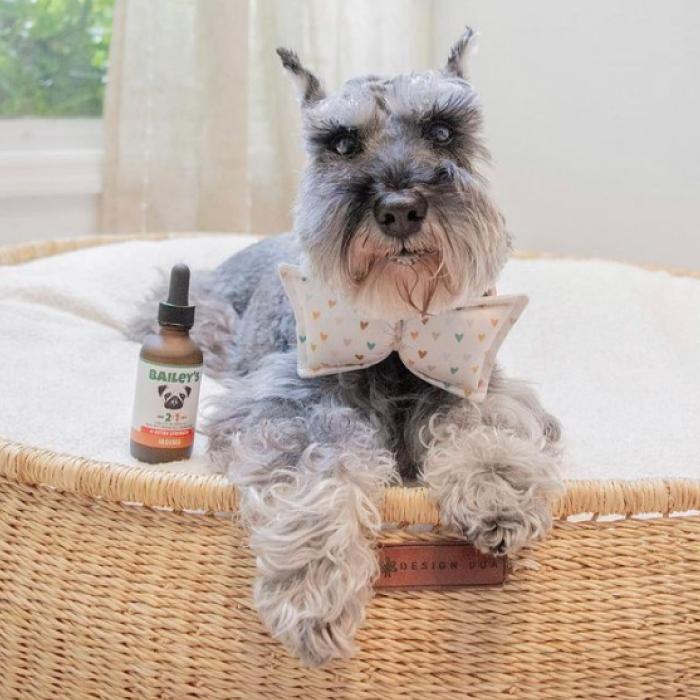 Looking to buy Extra Strength CBD oil for your dog?
Best CBD Oil For Dogs With Arthritis, Joint Pain, & Other Conditions
We're proudly committed to making only the best CBD oil for dogs and CBD dog treats. Bailey's CBD products for pets are all veterinarian-formulated, nonGMO, soy-free, and grain-free, so that we can optimize the effects of our full spectrum hemp for dogs.
Many large pet stores or pet CBD companies put additional ingredients in dog CBD products that are inflammatory or low quality. This limits all of the potential CBD benefits for dogs.
Our full spectrum hemp for dogs is sourced from a small family farm who grows & hand harvests USDA organic hemp. All other ingredients are minimal, natural, and of equally high quality.
CBD Oil For Dogs
CBD oil for dogs with arthritis and other painful conditions may be easier for those struggling with mobility or chewing. Place on a paw to be licked off, in treats, or food if able.
Hemp oil for dogs offers the full benefits of hemp in concentrated, potent doses. Bailey's CBD oil for dogs is mixed with MCT coconut oil for extra benefits and higher bioavailability. We offer multiple strengths, as well as a CBG oil for dogs. All come with Dr. Silver's guide with CBD dosage for dogs and suggested use.
How much CBD oil for dogs with arthritis depends on the dog and severity of symptoms. Consult a trusted veterinarian.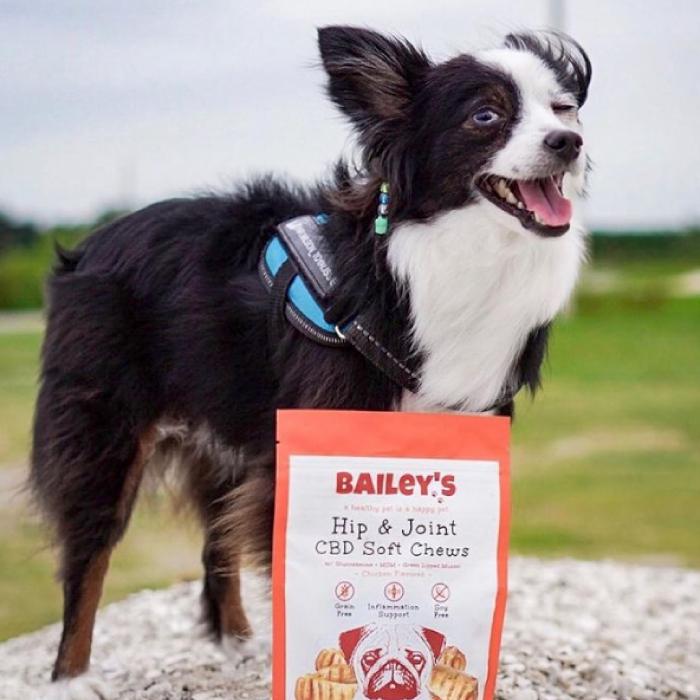 CBD Treats For Dogs
CBD dog treats offer the CBD benefits for dogs, but many may be too hard or crunchy for dogs struggling with arthritis and mobility.
We designed all of Bailey's hemp chews for dogs with accessibility and ease in mind. Bailey's CBD hemp chews are soft and come in a blend focused on mobility and hip & joint function. Bailey's Hip and Joint CBD Soft Chews include glucosamine, MSM, green lipped mussel, and naturally-occurring CBD from full spectrum hemp to support dogs' hip & joint function and promote healthy mobility. These CBD dog treats for joint pain are also chicken-flavored!
Some reasons people choose Bailey's Hip & Joint CBD Soft Chews:
CBD Dog Balm
Pet CBD topicals can also be very beneficial to use in combination with CBD dog treats or CBD oil for dogs. CBD dog balms help relieve immediate, localized pain.
Bailey's CBD Hemp Infused Paw & Nose Balm contains beeswax, sunflower seed oil, shea butter, aloe, and full spectrum hemp oil with high amounts of naturally-occurring CBD. These ingredients work together for maximum soothing.
All CBD products for pets should always be third party lab tested and made by transparent, knowledgeable companies who care about your pup. Bailey's CBD aims to create only the best CBD for dogs with arthritis and other painful conditions preventing a happy, healthy life. Our pet CBD is always pet-approved, lab tested, and gives back to the community.
These statements have not been evaluated by the Food and Drug Administration. This article is not intended to treat, diagnose, or cure any condition. Please consult a licensed healthcare physician before consuming new supplements or herbs.
Looking to buy CBD Balm for your pet?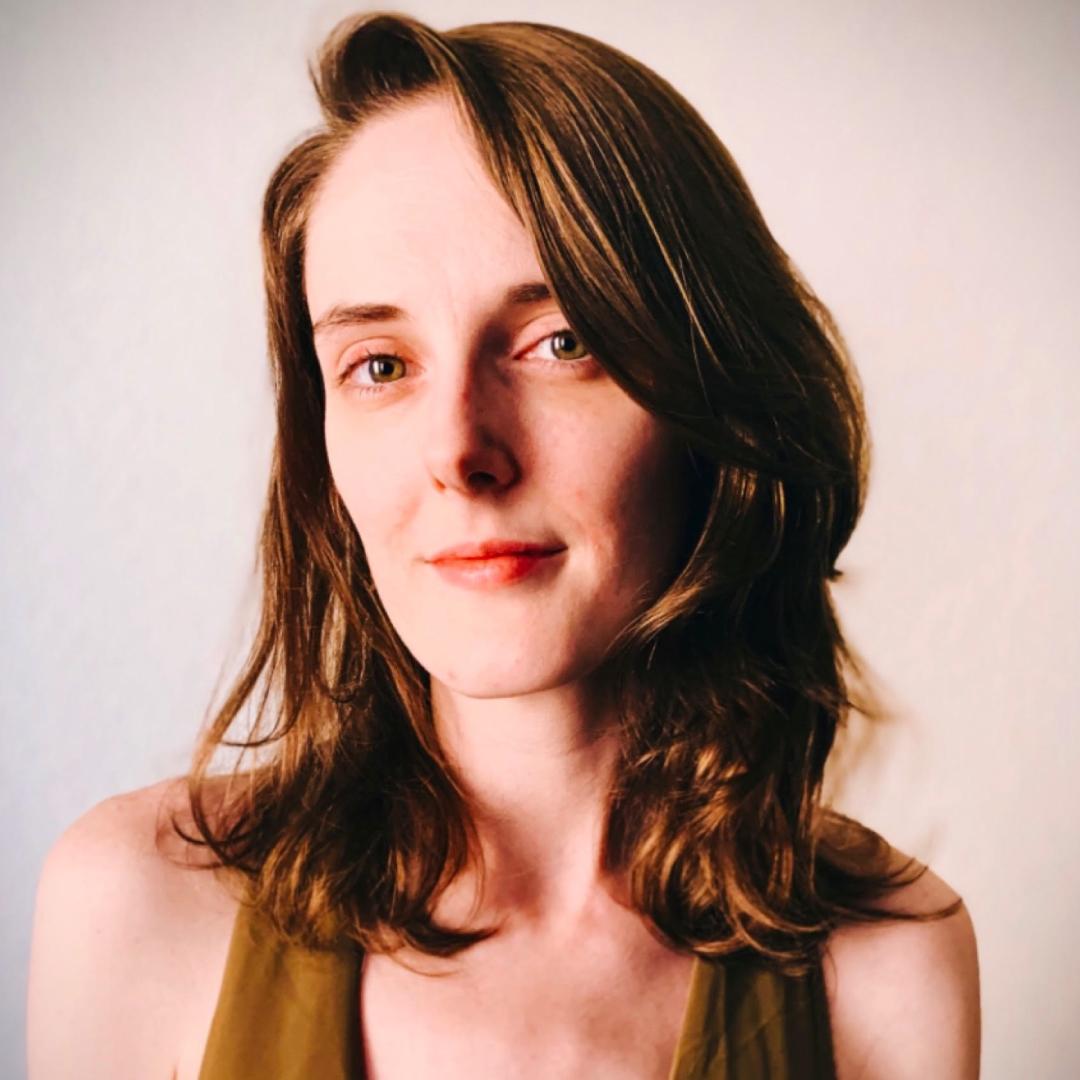 Article Written By:
Erica DeLoach
CMT | RYT 200 | MFA
Instagram: @vishuddhavision
Erica (they/them) is a non-binary disabled artist and educator passionate about creating accessible, inclusive, & equitable spaces. They are a certified massage therapist & TCM bodyworker, trauma-informed yoga teacher, voice coach, writer, cannabis educator, performing artist, media manager, and consultant.