ArticleContent
CBD Oil For Pets vs Hemp Treats: Which Is Better?

By Erica DeLoach | Published April 12th, 2022
Looking to buy CBD Oil for your dog?
1. CBD Oil For Pets vs Hemp Treats: Which Is Better?
When seeking CBD oil for dogs, cats, and other fur babes, we often wonder: CBD treats or CBD oil for pets? Is one better than the other?
Honestly it's up to you and your pet! Whether seeking CBD treats for dogs or hemp oil for dogs, what matters most is what works best for your pup.
We'll help guide you through the CBD benefits for pets, how to decide between hemp treats or hemp oil, how to use CBD products for dogs and cats, and how to find the best CBD pet products.
We want you to be as happy and comfortable with your CBD pet product choice as your pet is!
2. Is CBD Safe For Dogs, Cats, And Other Pets?
CBD is known for being a gentle, safe way to support ours and our pet's health. Every pet is different, and we always recommend consulting a trusted veterinarian before trying new herbs or supplements. Much research shows that CBD interacts with our Endocannabinoid System (ECS) and helps support homeostasis.
Homeostasis maintains balance in our pet's body. It is a state of equilibrium allowing the body to deal with stress, challenges, changes, and prevent damage. It maintains organ function and helps our pets live and grow.
The body's ECS regulates homeostasis. It helps control the immune, nervous, endocrine, and digestive systems. The ECS impacts vital physiological functions like: appetite, digestion, immune function, inflammation, pain, mood, sleep, fertility, motor control, temperature regulation, memory, and much more.
3. Is Hemp Good For Dogs, Cats, And Other Pets?
Cannabinoids play a big role in appetite, pain, cognition, inflammation, energy, immunity, and more. The body creates endo-cannabinoids (endo = within), while plants like hemp contain phyto-cannabinoids (phyto = plant). Endo-cannabinoids, phyto-cannabinoids (like CBD), & other hemp plant compounds interact with ECS receptors found throughout the body, bones, bodily systems, and major organs.
When our pet's body struggles to create its own endo-cannabinoids, it can disrupt homeostasis and how their bodily systems function. This can cause countless painful symptoms, health conditions, and other issues that make our pets suffer & reduce their quality of life.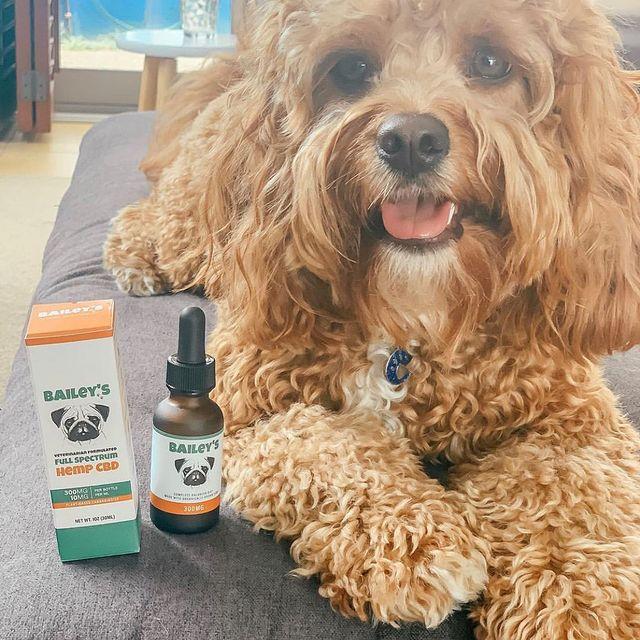 4. What Does Hemp Do For Dogs, Cats, And Other Pets?
Pet parents often use phyto-cannabinoids like CBD & CBG to help treat various conditions and symptoms. They also use it to support homeostasis and general immune health as a form of proactive wellness. 
Uses for hemp oil for dogs, cats, and other pets:
Inflammation

Mobility & joint conditions

Hip dysplasia 

Sleep

Separation or travel anxiety

Stress

Aggression

Allergies & skin issues

Wound repair

Bone health

Chronic & acute illness

Arthritis and osteoporosis

Immune health

General well-being

And more!
Benadryl for cats, dramamine for dogs, and other similar medicines used for pets often have side effects and are not always considered safe with continued use or large doses. CBD, on the other hand, interacts with our pet's natural ECS.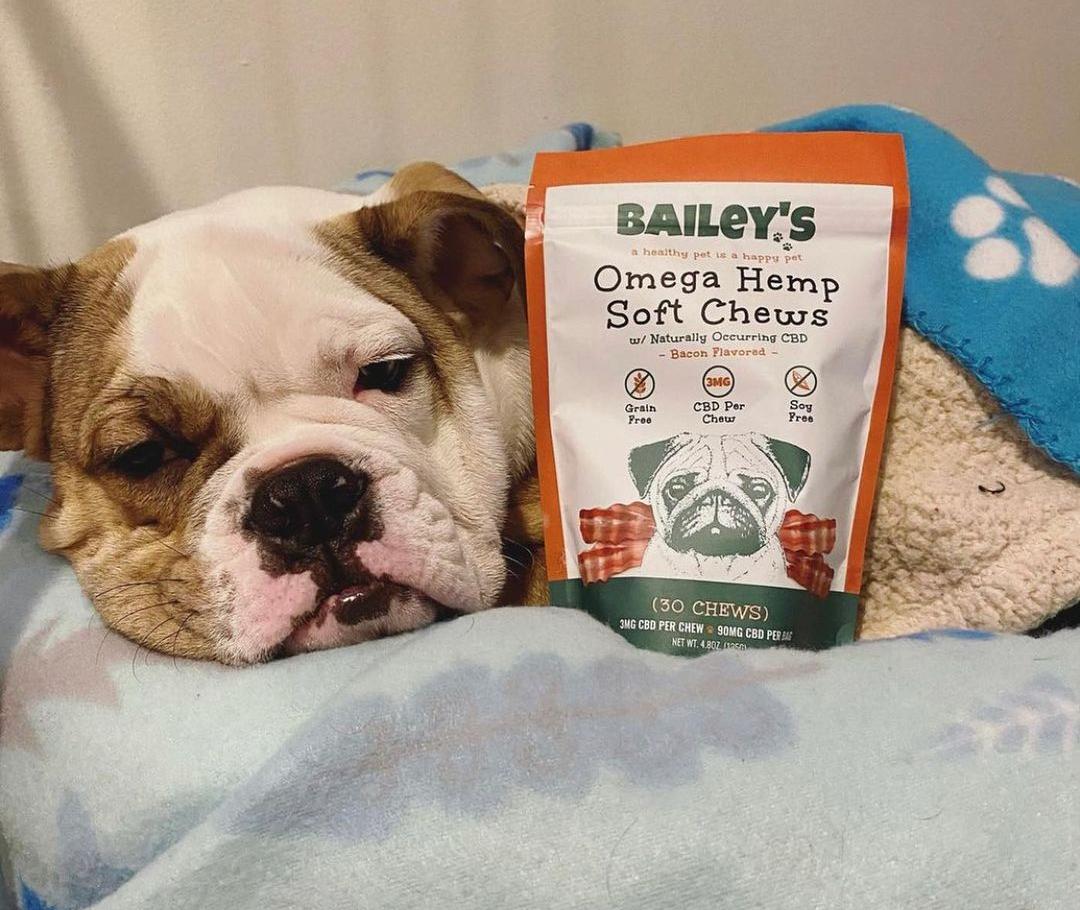 5. CBD Treats For Dogs And Cats
Tasty and easy to use, hemp treats are a popular way to give pets CBD. CBD pet treats offer many flavors and textures to enjoy. Hemp treats are especially ideal for pets who are picky with CBD oil. CBD treats are accessible for pets who may struggle to take oil directly and help provide additional nutrients.

We also know how cats sometimes like to do things on their own terms, so CBD treats for cats are a subtle way to give them their daily dose.

CBD treats for dogs are everywhere, but countless hemp dog treats and other CBD pet products on the market contain low-quality ingredients. It's important to look at the source of CBD and the other ingredients in CBD dog treats, CBD cat treats, and other CBD pet products. Avoiding inflammatory, high-sugar ingredients can help support our pet's healthy lifestyle.

Looking to buy Omega Hemp CBD Soft Chews for your dog?
6. Bailey's CBD Soft Chews For Dogs
Bailey's CBD soft chews for dogs are cold-pressed and never baked. This means they keep the abundance of naturally-occurring cannabinoids, terpenes, flavonoids, and other therapeutic properties of hemp. 

Easy to chew & vegan, all CBD dog treats are available in a small/medium breed variation (3mg CBD per chew) and a large breed/extra strength variation (6mg CBD per chew).
7. What Do Hemp Treats Do For Dogs?

Hemp treats provide precise doses of CBD for pets and can also be intentionally made with other compounds for therapeutic use. We currently have three options focused on wellness, calmness, and mobility. Each hemp wellness dog chew has a specific blend that works with CBD and other plant compounds for maximum effect.

8. Wellness: Omega Hemp CBD Soft Chews
Winning the 2019 California Cannabis Awards CBD Product Of The Year award, our Bacon-Flavored Omega Hemp CBD Soft Chews support your pup's health, wellness, and joy.
These full-spectrum CBD dog treats contain omega-3 fatty acids, omega-6 fatty acids, and omega-9 fatty acids. This daily balanced ratio of omegas and CBD is great for supporting many regulatory functions in the body and promoting longevity. 
Most pet parents reactively wait until it's too late and conditions have aggressively accumulated to begin giving CBD. Smart pet parents give products like our Omega Hemp CBD Soft Chews proactively to sustain our pet's daily health and well being.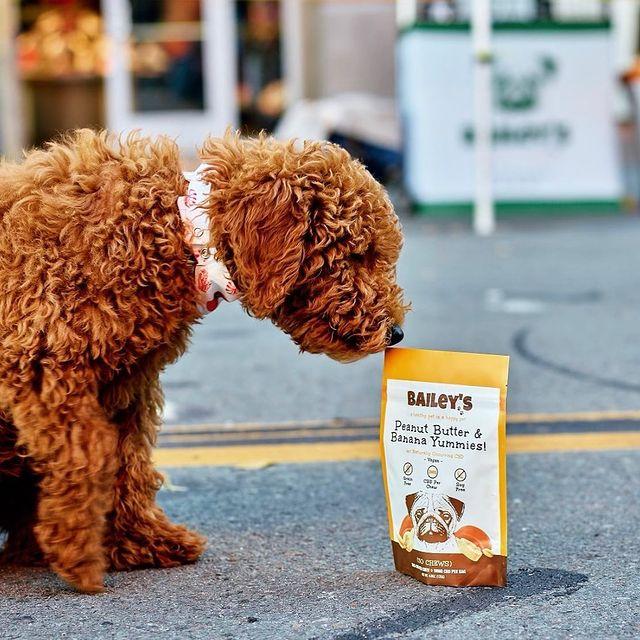 9. Calmness: Calming CBD Yummies!
Pitbull puppies bouncing off the walls? Maybe your German Shepherd Husky mix has a hard time being away from you. Or your American Akita struggles with anxiety like humans do. Whether your pup is scared of traveling or has insomnia, they deserve relief too. Hemp dog treats for anxiety are one way to help.
We offer hemp calming chews for dogs who are anxious, stressed, or restless. Our Calming CBD Yummies! come in peanut butter and banana flavor for maximum yumminess!
Many use Bailey's Calming CBD Yummies! for traveling stress relief, separation anxiety support, hyperactive pups, decreasing aggression in dogs, helping dogs sleep through the night, and general hemp calming support for dogs.
These CBD soft chews for dogs contain human-grade active ingredients that act in combination with CBD to promote relaxation - including tryptophan, valerian root, chamomile, and passionflower.
Looking to buy Calming CBD Yummies for your dog?
10. Mobility: Hip & Joint CBD Soft Chews
Made with glucosamine, MSM, green lipped mussel, and naturally-occurring CBD, these chicken-flavored CBD soft chews for dogs are used to support mobility and hip & joint function.
Some reasons people choose Bailey's Hip & Joint CBD Soft Chews:
Mobility support

Graceful aging for pets

Relief for arthritic pets

Support for dogs predisposed to hip and joint conditions due to breed

Hip dysplasia that causes pain, joint wear, and joint degeneration

Hemp joint supplement for dogs
Looking to buy Hip & Joint CBD Soft Chews for you dog?
11. CBD Oil For Pets
For pets who prefer something simple or struggle to chew treats or digest food, CBD oil for pets is another option.
CBD hemp oils are an effective way to give pets concentrated, potent amounts of CBD in one dose. Parents can place the oil directly in their pet's mouth if able, in their food, or on a paw to be licked off.
Hemp oil benefits for dogs are the same as CBD treats, although it's usually easier to give larger doses with CBD hemp oil.
Full-spectrum hemp oils for dogs are a great way to get high doses of CBD and the full plant benefits. Full-spectrum hemp provides all of the hemp cannabinoids, terpenes, terpenoids, flavonoids, and many other plant compounds that act in synergy. Synergy is when hemp cannabinoids and compounds work together to enhance and amplify each individual effect.

Bailey's full-spectrum hemp oil for pets is non-intoxicating and made with naturally-occurring CBD. We also carry an extra strength 2:1 CBG oil for pets. Known as "the mother of all cannabinoids", CBG plays a big part in hemp's therapeutic benefits.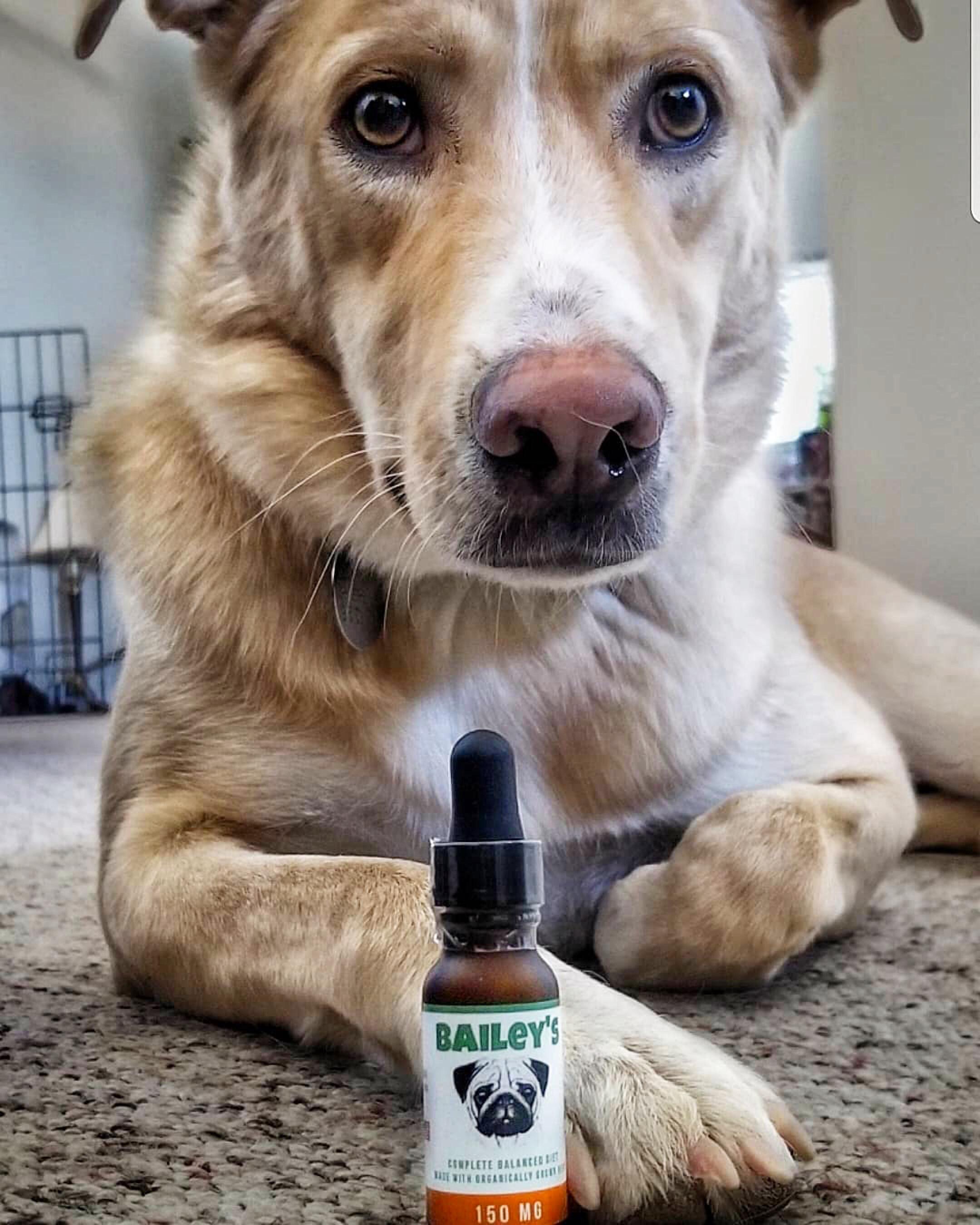 12. "Do Vets Recommend CBD Oil For Dogs?"
This is a question we hear a lot. The answer is: many vets do!
Bailey's CBD is partnered with respected Colorado veterinarian Dr. Robert Silver, and our CBD pet products are all made under his guidance. Each bottle of CBD hemp oil comes with his guide for suggested use and dosage.
Because of this veterinarian guidance, Bailey's CBD oil for dogs is intentionally calibrated.
13. How Many MG Of CBD For Dogs, Cats, And Other Pets?
Every pet is different! Consult a veterinarian about specific doses for your pet. 
Bailey's CBD oil for dogs is calibrated at 10mg/ml for our regular strength oil and 30mg/ml for our extra strength 2:1 CBD:CBG oil. Dr. Silver's suggested dosing guide helps pet parents know how much CBD is in each individual droplet, as well as each line on the dropper with an accompanying weight guide broken down by 3 tiers.
These tiers include starting maintenance doses for pet parents who want to give their dog CBD ahead of time for long-term, proactive wellness. They also include higher-strength therapeutic dosing for ailing dogs and those in need of more CBD for desired relief.
We like to start by giving a dose twice daily for two weeks, observing our pet's behavior, and adjusting the dosage accordingly. Veterinarian Dr. Robert Silver suggests a starting dose of 1mg/10lb twice a day.
CBD dosage for dogs and cats may vary. If not seeing the desired pain relief, many increase the dosage after a week. It may take time to find what works best!
Consistency is key when it comes to CBD for pets. When taken consistently, CBD may help prevent future issues by promoting homeostasis.
Looking to buy CBD Oil for your cat?
14. How Do I Find The Best CBD For Dogs Ans Other Pets?
Finding the best CBD oil for dogs and other quality CBD pet products can be a daunting task in such an oversaturated market. The best CBD dog treats and other pet products will always be from CBD pet companies who prioritize quality, care about the community, and are transparent with their manufacturing process.
Always look for third-party lab tests for CBD treats and CBD pet oil. Lab tests are important so we know CBD treats and oil contain the advertised potency and other plant compounds. It also confirms the CBD pet products were tested for solvents, mold, pesticides, and other additives that can harm our pet.
All Bailey's CBD pet products are third-party lab tested with tests available directly on our website. We only use USDA organic, single-sourced full-spectrum hemp extract from a small family farm in Colorado.
You and your pet deserve only the best CBD, the best ingredients, and the best intentions.
These statements have not been evaluated by the Food and Drug Administration. This article is not intended to treat, diagnose, or cure any condition. Please consult a licensed healthcare physician before consuming new supplements or herbs.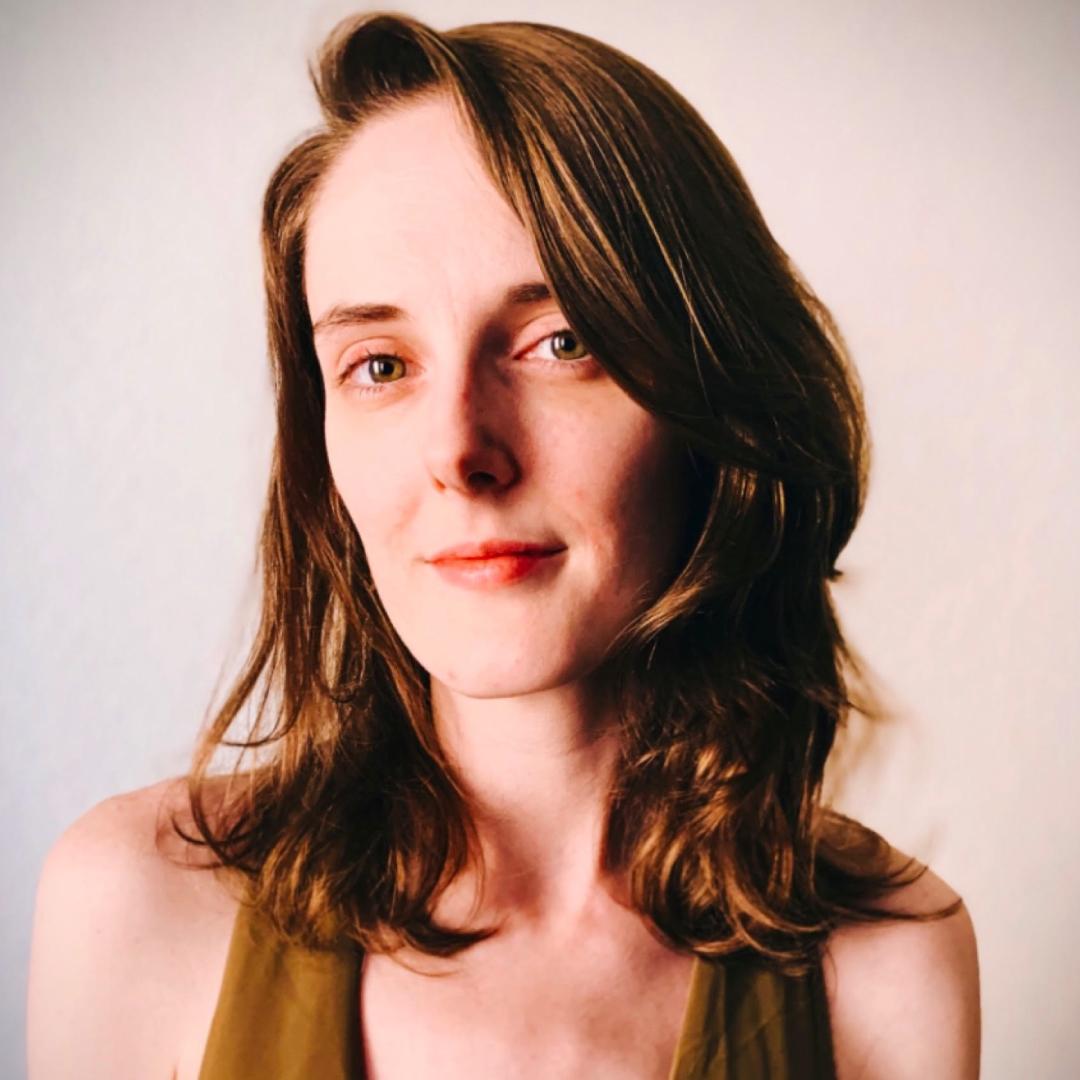 Article Written By:
Erica DeLoach
CMT | RYT 200 | MFA
Instagram: @vishuddhavision
Erica (they/them) is a non-binary disabled artist and educator passionate about creating accessible, inclusive, & equitable spaces. They are a certified massage therapist & TCM bodyworker, trauma-informed yoga teacher, voice coach, writer, cannabis educator, performing artist, media manager, and consultant.