ArticleContent
Hemp For Dogs With Anxiety: Helping Pets With Stress

By Erica DeLoach | Published April 19th, 2022
Looking to buy CBD Oil for your dog?
1. Hemp For Dogs With Anxiety: Helping Pets With Stress
Anxiety can be debilitating, whether you're human or canine. It hurts to see pups struggling with stress especially because they can't tell us exactly what's wrong.
Maybe it's dogs with car anxiety, dogs with separation anxiety, dog aggression, hyperactive pups in need of calming support, helping dogs sleep through the night, or fear of loud noises and fireworks. Sometimes they might not even know what's wrong, just like us!
Our pets deserve stress relief that is safe, accessible, and effective.
2. Hemp Calming Support For Dogs
Is hemp calming for dogs? For many pups, yes. Whether the source of stress is specific or general, many parents turn to hemp derived CBD oil and CBD treats for anxious dogs. It is important to note that products derived from "hemp seed" do not contain CBD and are not going to be anywhere near as effective as medicinal grade CBD infused dog treats. 
3. What Is CBD?

What is CBD for dogs? CBD is cannabidiol: a well-known cannabinoid found in hemp. It's used by people and animals to promote a healthy immune system, support treatment for inflammation & various conditions, and provide therapeutic effects.
Cannabinoids heavily impact appetite, pain management, inflammation, immune function, and more. Our dog's body naturally produces endo-cannabinoids, while plants (like hemp) contain phyto-cannabinoids (like CBD).


CBD, other cannabinoids, and hemp plant compounds interact with our dog's Endocannabinoid System (ECS).

The ECS regulates vital physiological functions and the nervous, endocrine, digestive, & immune systems. It helps control sleep, mood, inflammation response, pain, immune health, and much more.

When our dog's body can't make its own endo-cannabinoids or the ECS is out of balance, this may cause anxiety, health conditions, inflammation, pain, and other issues that create even more stress for our pet.

As a result, many give their dogs phyto-cannabinoids daily to promote a healthy ECS, maintain calmness, and prevent future anxiety or problematic conditions. Many also use it as needed for pain, stress, insomnia, and other symptoms.
4. What Does Hemp Do For Dogs?
What are some hemp dog treat benefits? The CBD benefits for pets are the same benefits we experience! It's for this reason that calming hemp for dogs has become a popular choice. Many reasons we use CBD for dogs include:
Anxiety support and stress relief

Pain and inflammation

Sleep

Allergies

Hot spots & skin issues

Wound repair

Bone health

Appetite & stomach problems
Arthritis and osteoporosis
Supporting cancer treatment

Hip and joint function

Immune health

And more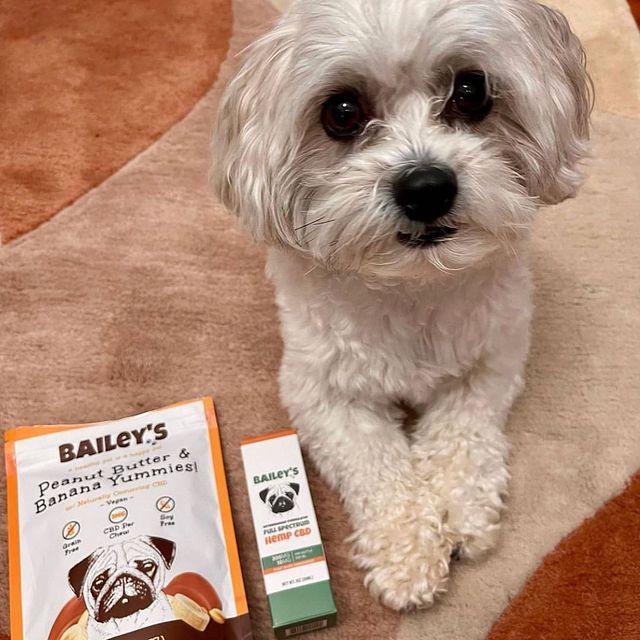 5. CBD For Anxious Dogs
What is the best CBD for dog anxiety? It depends on your pup! The best CBD for dogs is always lab-tested and contains high quality ingredients. Many also find full-spectrum hemp extracts more effective than isolated cannabinoids.
Transparency is key when it comes to CBD for pets. Look for verified reviews and easily-accessed third party lab test results. The most trusted CBD pet companies care about their community and are knowledgeable about hemp itself. 
6. CBD Dog Treats For Anxiety
Are there edibles for dogs with anxiety? Yes! They aren't the exact same kind of edibles some humans enjoy, but there are many kinds of CBD treats for dog anxiety.
It can get overwhelming when searching for CBD dog treats for anxiety. Most dog treats are baked, losing much of the starting therapeutic properties. Many also contain inflammatory, questionable ingredients.
CBD dog treats on Amazon and in big-box pet stores often don't contain CBD, only hemp seed oil - which is paired with calming ingredients for relaxation.
While those products can be effective, this marketing can be intentionally misleading when advertising hemp calming treats for dogs. Hemp seed oil for dogs is not the same as full-spectrum hemp extract with naturally-occuring CBD. Full-spectrum hemp extract and CBD interact with our dog's Endocannabinoid System, helping provide the effects & support discussed earlier.
What Do Hemp Treats Do For Dogs?
Hemp treats provide precise doses of CBD for pets and can be made with other therapeutic compounds for maximum effect. Plus, they are made with yummy ingredients like bacon or peanut butter banana, so you know your dog is going to be drooling for them.

Hemp Treats For Dogs Side Effects
For most pets, the most experienced "side effects" of hemp for dogs are relaxation. If given "too much" CBD, a pet (or human) is often just a little sleepy and has a nice nap.
However, always consult a licensed veterinarian before starting new supplements & routines or if experiencing health issues. Every pet's body is different, and some pets may even have sensitivities to other ingredients, so it's always best to do your due diligence.
7. Bailey's Calming CBD Soft Chews For Dogs
For treating dog anxiety with CBD, we offer hemp calming chews for dogs.
Bailey's CBD soft chews for dogs are cold-pressed and never baked. This maintains the abundance of naturally-occurring cannabinoids, terpenes, flavonoids, and other therapeutic properties in hemp.
Easy to chew and vegan, all CBD dog treats are available in a small/medium breed variation (3mg CBD per chew) and a large breed/extra strength variation (6mg CBD per chew).
8. How Do Hemp Treats Work For Dogs?
Full-spectrum hemp dog treats contain all of the cannabinoids, terpenes, flavonoids, and other hemp plant compounds. These compounds work in synergy, enhancing and amplifying each individual effect. This means they're stronger when together!
Hemp works in synergy with other plants and compounds too. Our calming CBD dog chews contain USDA organic full-spectrum hemp extract with naturally-occurring CBD and other holistic compounds. These all combine together to promote relaxation in stressed, anxious dogs.
Our hemp dog treat recipe includes tryptophan, valerian root, chamomile, and passionflower. Each was chosen for its therapeutic benefits for overall well-being and serenity.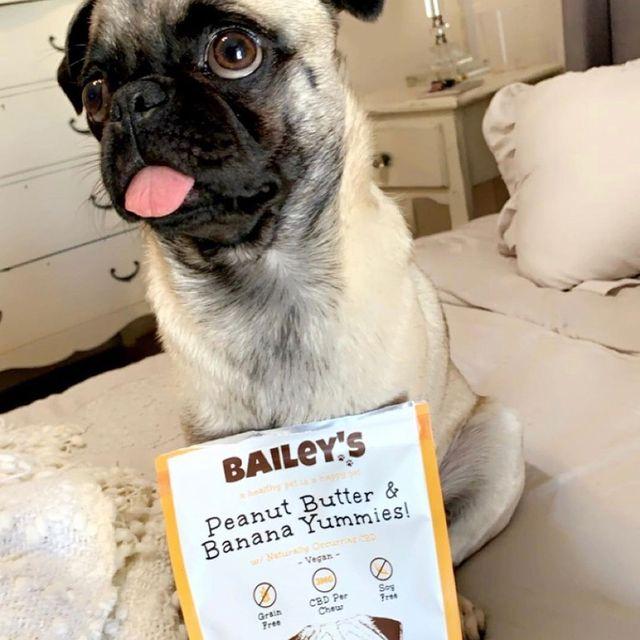 Tryptophan
An essential amino acid obtained nutritionally, tryptophan is involved with creating the hormone serotonin. Elevated serotonin blood levels have shown to reduce behavioral disorders, like separation & travel anxiety.
Many use tryptophan to help reduce dominance aggression and territorial aggression in dogs.


Valerian Root (Valeriana Officinalis)
Valerian root is an herbal supplement commonly used by many for sedation, insomnia relief, and reducing anxiety & stress.
Valerian increases the amount of gamma-aminobutyric acid (GABA) in the brain. GABA prevents unwanted nervous system activity, and low GABA levels are linked to stress, anxiety, and poor sleep. Research shows it has antioxidants and acids that may impact sleep and muscle-relaxation.
Chamomile (Matricaria Chamomilla)
Chamomile is an herb in the daisy flower family used in humans & dogs (in smaller amounts) for mild sedation, anxiety support, anti-inflammation, gastrointestinal disorders, and muscle relaxation.
Passion Flower (Passiflora Incarnata)
Passionflower is a popular choice when it comes to stress relief and sleeplessness.
Biochemical studies show passionflower contains natural flavonoids that strengthen the effectiveness of GABA brain receptors.
Passionflower raises levels of serotonin and dopamine. It's also been used for stomach ulcer alleviation, which can cause or be caused by stress.
Our Calming CBD Yummies are one of our community favorites!

Looking to buy Calming CBD Yummies for your dog?
9. What Is Hemp Oil For Dogs?
Is there CBD tincture for dogs? Yes! The CBD oil benefits for dogs are the same as CBD treats.
Hemp oil for anxious dogs offers potent, concentrated doses if needed. CBD oil for dogs is ideal for picky snackers and those who struggle with chewing or digestion. Put a few drops in food, directly in the mouth, or on a paw to be licked off.
Bailey's CBD hemp oil for dogs comes in three sizes and strengths, as well as an extra-strength 2:1 CBD:CBG hemp oil option.

Check out our blog CBD Oil for Pets vs Hemp Treats: Which is Better? for a more detailed look at the difference between CBD treats and CBD oil for pets.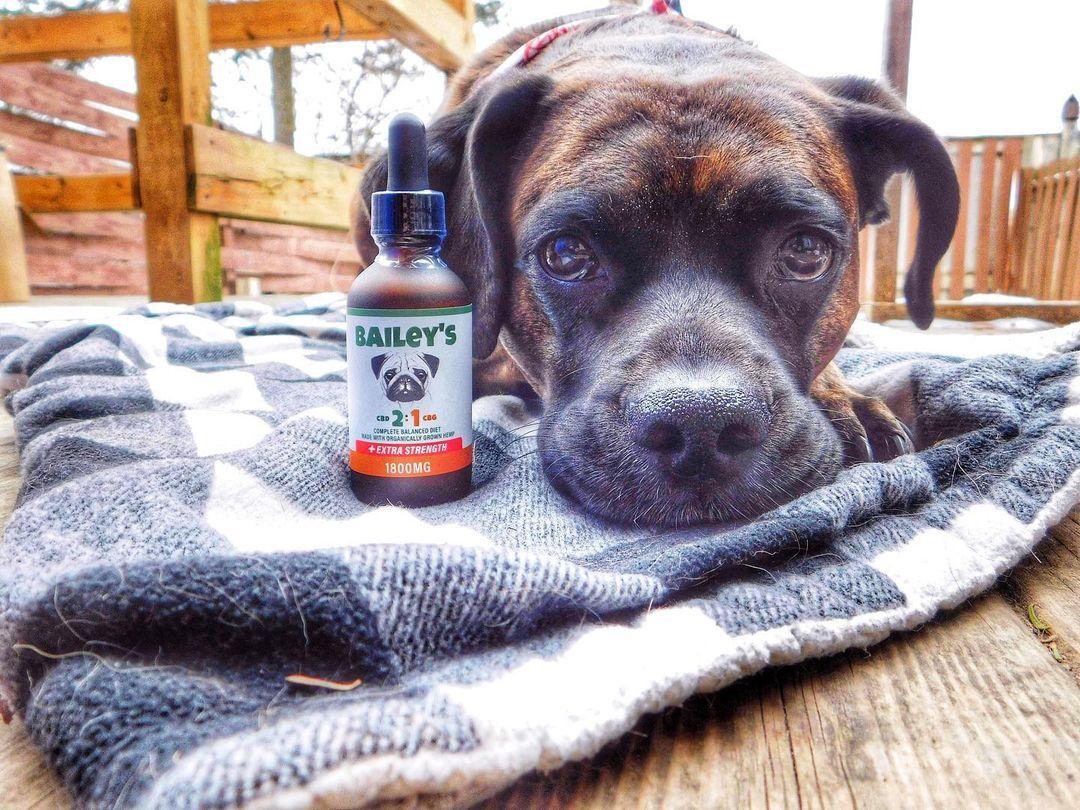 10. CBD For Dogs: Dosage
How many mg of CBD for dogs? CBD oil dosage for dogs varies.
Bailey's CBD is partnered with respected Colorado veterinarian Dr. Robert Silver, and our CBD pet products are all made under his guidance. Each bottle of CBD hemp oil comes with his guide for suggested dosage.
Bailey's CBD oil for dogs is calibrated at 10mg/ml for our regular strength oil and 30mg/ml for our extra strength 2:1 CBD:CBG oil. Dr. Silver's suggested dosing guide helps parents know how much CBD is in each droplet, as well as each line on the dropper with an accompanying weight guide broken down by 3 tiers and needs.
Veterinarian Dr. Robert Silver suggests a starting dose of 1mg/10lb twice a day and adjusting the dosage accordingly based on the results. Finding the right CBD dosage for dogs may take time.
Looking to buy Extra Strength 2:1 CBD & CBG Oil for your dog?
11. How Often Can I Give My Dog CBD Oil?
Consistency is very important when it comes to CBD for pets. Research shows consistent CBD use promotes homeostasis (inner physiological balance) by helping the ECS communicate and function properly.
This means CBD may help prevent future issues before they start, promote daily calmness, and support general well-being.
12. How Else Can I Help My Anxious Dog?
In addition to using calming hemp for dogs, we can do other things to help soothe our dog's anxiety:
Comfortable bedding
We all need to be comfortable when we sleep! Make sure your pet's sleeping spot is cozy, bedding is clean, and filled with some of their favorite things to help promote good rest.
Safe Environment
A safe living environment is as important for our pets as it is for us. Make sure they're in an environment where they feel safe and their needs are easily met.
Quality Nutrition
Inflammation caused by nutrition is common. Much commercial pet food has inflammatory ingredients that build up over time and cause health issues - including anxiety or depression. Give your pet food with high-quality ingredients from companies who care.
Intimate Family Time
Spend time together! Snuggling and playing together is important so our pet knows how loved they are. Set aside time each day to play, get fresh air, and be with each other in ways that bring you both joy.
13. The Best CBD For Pets
Anxiety relief for dogs should be safe and easy to find. That's why Bailey's CBD offers only the best quality CBD for dogs and is committed to helping pet parents understand the benefits of CBD for dogs.
Third party lab test results for all Bailey's CBD pet products are listed on our website with each product. We trust our veterinarian-formulated products so you can too.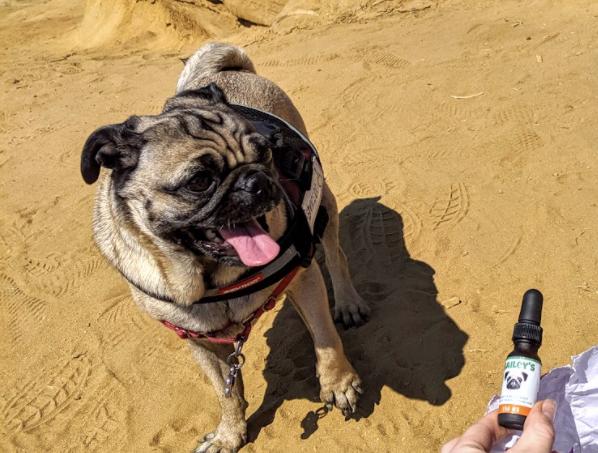 These statements have not been evaluated by the Food and Drug Administration. This article is not intended to treat, diagnose, or cure any condition. Please consult a licensed healthcare physician before consuming new supplements or herbs.
Looking to buy CBD Oil for your dog?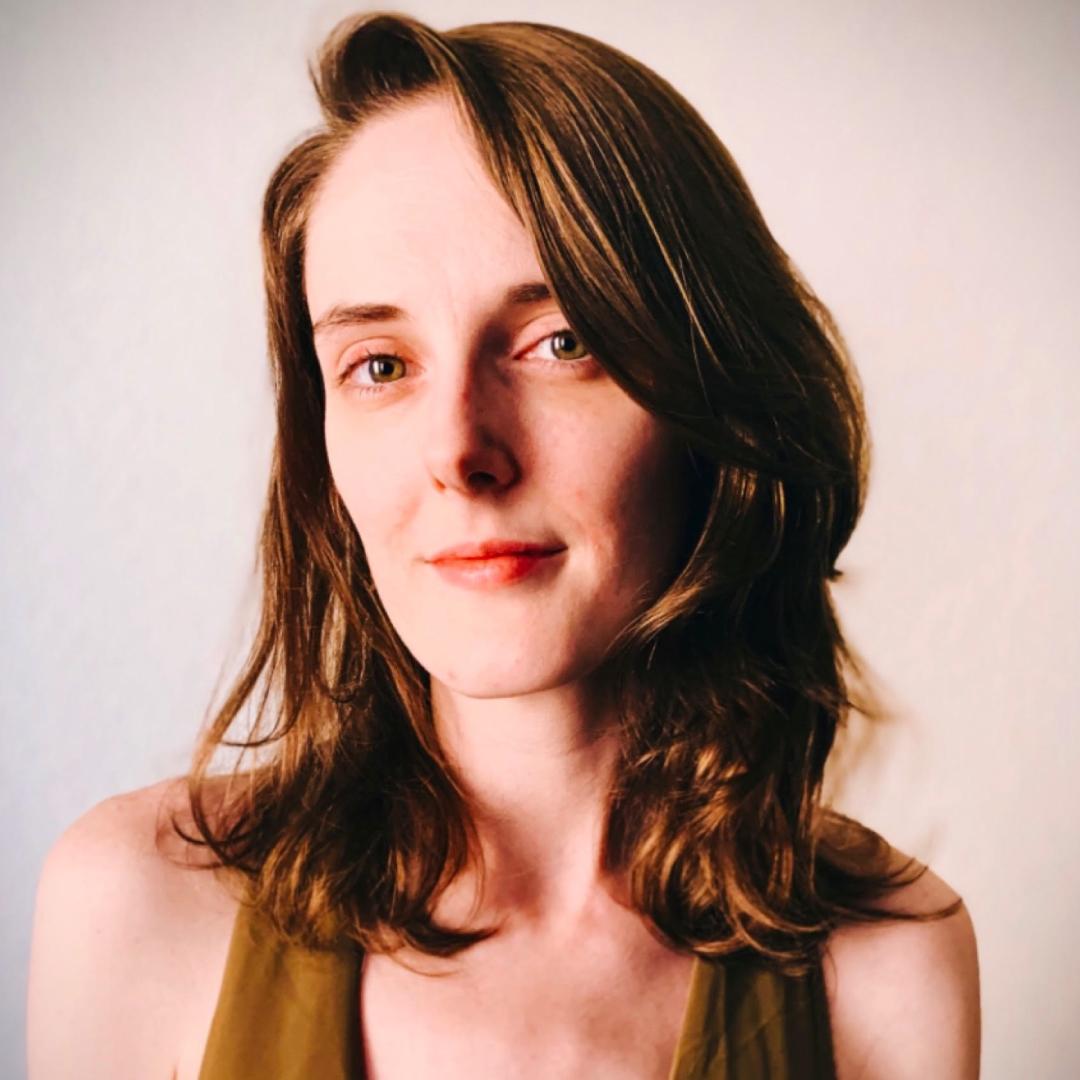 Article Written By:
Erica DeLoach
CMT | RYT 200 | MFA
Instagram: @vishuddhavision
Erica (they/them) is a non-binary disabled artist and educator passionate about creating accessible, inclusive, & equitable spaces. They are a certified massage therapist & TCM bodyworker, trauma-informed yoga teacher, voice coach, writer, cannabis educator, performing artist, media manager, and consultant.