CBD For Dogs: Don't Wait Until It's Too Late
By Erica DeLoach | Published December 3, 2021
Many pet parents use CBD for dogs as needed, to help health symptoms, and to support treatment for various conditions.
While CBD is used to treat dog pain and pet problems as they arise, we also fully believe in proactive use of CBD for pets. This means using CBD before symptoms arise as a way to help prevent future health issues and help chronic pain in pets.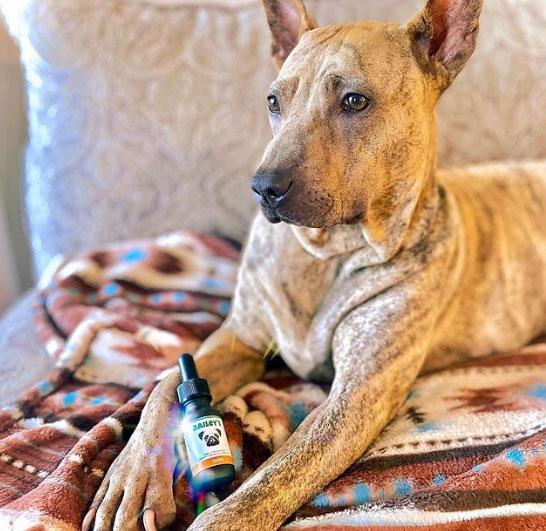 Proactive wellness for pets. Proactive wellness is when we address whole-body health before experiencing diseases or painful symptoms. Proactive use of CBD for pets means giving them CBD daily before painful conditions occur.
Our pet's body requires essential vitamins, minerals, and other compounds daily to function properly and survive.
These compounds include cannabinoids, which are created by and interact with our endocannabinoid system (ECS). The ECS helps control the immune, nervous, endocrine, & digestive systems. It regulates vital physiological functions, such as: appetite, digestion, immune function, inflammation, pain, mood, sleep, fertility, motor control, temperature regulation, memory, and more.
While the body creates endo-cannabinoids, plants (like hemp) contain phyto-cannabinoids (phyto = plant). Endo-cannabinoids, phyto-cannabinoids (like ), & other hemp plant compounds interact with ECS receptors found throughout the body, bones, bodily systems, and major organs.
Due to aging and other reasons, sometimes the body struggles to create its own endo-cannabinoids. When our pet's body can't make its own endo-cannabinoids, it disrupts their homeostasis.
Pet parents often use phyto-cannabinoids like CBD & CBG in order to help their pet maintain homeostasis.
1. What Is Homeostasis?
Homeostasis is how our pets grow and live. It is their body's most balanced, inner physiological state when bodily systems & organs function healthily and communicate efficiently.
Homeostasis regulates organ function, monitors changes within internal systems, and restores balance when needed. It helps the body fight external stress, deal with challenges & changes, prevent damage, and avoid what negatively impacts immune health.
The ECS plays a huge role in maintaining homeostasis.
2. How CBD Supports Homeostasis
Research shows consistent CBD use promotes homeostasis by helping the body communicate important messages. It interacts with ECS receptors to support necessary functions like sleep, metabolism, digestion, inflammation response, immune health, organ health, stress response, many systemic processes, and so much more.
When the body needs internal balance, it creates its own cannabinoids. These cannabinoids communicate between cells, helping support healthy bodily function. When a body doesn't make enough endo-cannabinoids to support this communication, people commonly supplement withphyto-cannabinoids (CBD, CBN, CBG, etc).
But even if a pet experiences no symptoms or illness, consistent CBD use for pets may still encourage bodily communication and prevent future health dysfunction.Research shows CBD for pets can help their body's regulatory systems operate more efficiently, especially if aging or prone to endocannabinoid deficiencies.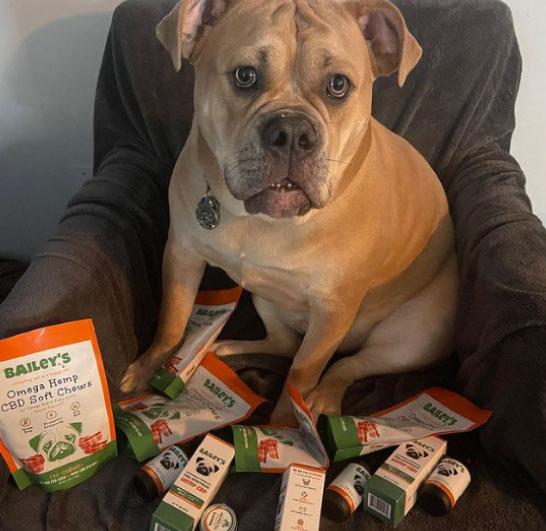 3. CBD For Inflammation
A main reason people use CBD for proactive wellness relates to how cannabinoids interact with the immune system and inflammation.
Many use CBD for reducing inflammation due to its interaction with white blood cells and activation of the TRPV2 protein. CBD is also used to support gut health - another large location of the immune system.
The immune system needs a balance between inflammation and anti-inflammation.Inflammation is how our pet's body protects itself and heals from injuries. White blood cells accumulate at an injury location and fight infections by attacking bacteria, viruses, germs, and harmful stimuli.Inflammation's purpose is to eliminate initial trauma and damaged cells & tissues, then start repairing. When the immune system is out of balance, we deal with chronic inflammation. This can lead to various painful symptoms and illnesses.
White blood cells contain cannabinoid receptors. Studies show consistent CBD use encourages consistent communication between these cells, as well as proper communication with the body's other systems. Proper bodily communication helps protect the body against daily threats to the immune system.
Proper communication between the immune system and the rest of the body helps protect itself, balance inflammation, and support healthy organ function.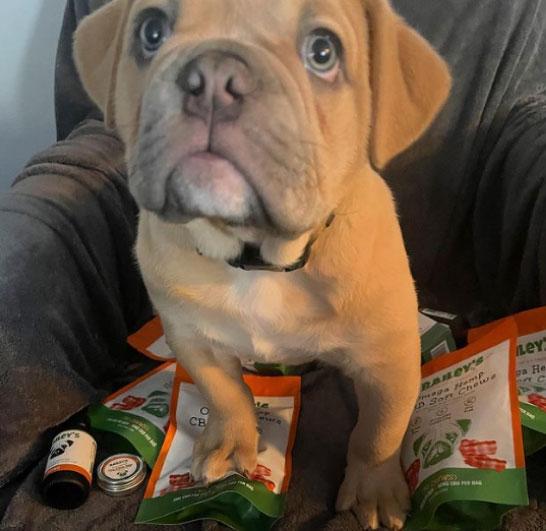 4. How Can I Be Proactive With My Pet's Health?
Inflammation caused by nutrition is common. Much commercial pet food is made with inflammatory ingredients, which may build up over time and cause health issues. We recommend quality pet food and treats made with conscious, non-inflammatory ingredients.
We also recommend choosing quality CBD from vetted companies who provide lab-tested products and unbiased reviews.
We personally find that both quality sourced food and CBD means less vet visits, costs, and a happier, healthier quality of life for us & our pets.
5. CBD For Pets
There are many ways to incorporate CBD into your pet's routine, including CBD treats for pets, CBD oil for pets, and CBD topicals. Read more below to learn which products are best suited for your pet's needs.

6. CBD Balms For Pets
While CBD treats and CBD oils are easy ways to internally give our pets hemp for proactive wellness, CBD topicals for pets are used alone and in combination with oral CBD products for extra relief.Many dogs struggle with hot spots, rashes, or bed sores from immobility.
Many parents useCBD topicals for quick pain relief in localized areas or with CBD treats & CBD oils for whole-body wellness.
Topical health can be an indicator of underlying health issues and potentially cause further issues. We love to use our hemp-infused paw and nose balm with 50mg of naturally-occuring CBD, aloe, shea butter, beeswax, and sunflower oil for soothing effects.
7. Bailey's CBD Soft Chew Treats For Dogs
Bailey's CBD treats are made to compliment a balanced daily routine.
We provide three proprietary wellness blends that we really enjoy: Omega Hemp CBD SoftChews, Hip & Joint CBD Soft Chews, and Calming CBD Yummies! Bailey and friends enjoy them too!
Bailey's CBD soft chews are cold-pressed and never baked. This means they keep the abundance of naturally-occurring cannabinoids, terpenes, flavonoids, and other therapeutic properties of hemp.
All are available in a small/medium breed variation (3mg CBD per chew) and a large breed/extra strength variation (6mg CBD per chew).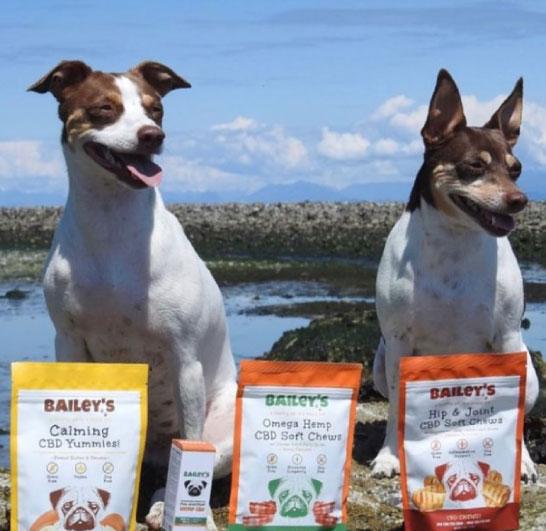 8. Morning: Hip & Joint CBD Soft Chews
Bailey enjoys our Hip & Joint CBD soft chews to put a pep in his step in the morning.
Made with glucosamine, MSM, green lipped mussel, and naturally-occuring CBD, these tasty chicken-flavored soft chews are intended to support dogs' healthy hip and joint function.
Some reasons parents choose Bailey's Hip & Joint CBD Soft Chews:
● Mobility support
● Graceful aging for pets
● Comfort for arthritic pets
● Support for dogs predisposed to hip and joint conditions due to breed
These Hip & Joint CBD soft chews are ideal for pets with arthritis, chronic pain, and mobility issues. Many dog breeds are also highly predisposed to hip dysplasia, causing pain, joint wear, & joint degeneration.
9. Afternoon: Omega Hemp CBD Soft Chews
We give Bailey Omega Hemp CBD Soft Chews in the afternoon for proper omega 3 & 6balance.
Winning the 2019 California Cannabis Awards CBD Product Of The Year award, our bacon-flavored Omega Hemp Soft Chews contain full-spectrum CBD, omega-3 fatty acids, omega-6fatty acids, and omega-9 fatty acids.
Omega fatty acids are dietary fats important for balanced nutrition that contribute to overall well-being. Countless studies reveal so many long-term benefits of omega fatty acids for pets and humans.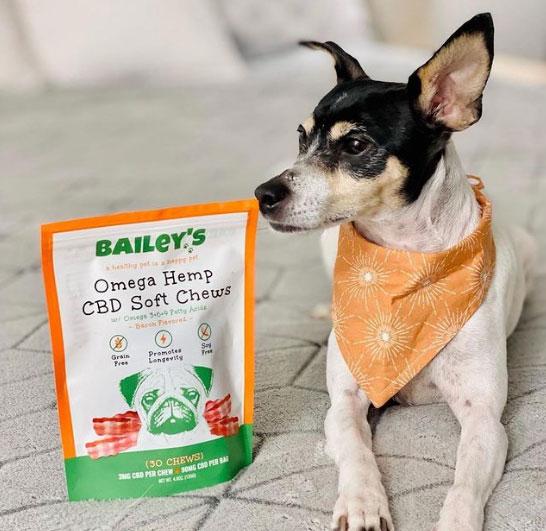 Many scientists and health professionals now believe an imbalanced omega 6:3 ratio impacts chronic inflammation. Our omega-3-6-9 source is derived from the flaxseed, which is explored for anti-inflammatory purposes and contains lignans. Lignans are popularly used for cardiovascular health and osteoporosis.
10. Night: Calming CBD Yummies!
Bailey gets Calming CBD Yummies! at night to wind down from a stressful day of being the boss.
These 100% vegan, peanut butter and banana chews are often used for traveling, stress relief, separation anxiety, hyperactive pups, decreasing aggression, helping dogs sleep through the night, and general calming support.
These CBD dog chews contain holistic and human-grade active ingredients: tryptophan, valerian root, chamomile, and passionflower. These compounds are heavily studied for their ability to reduce stress and support tranquility. Using the entourage effect, they act in synergy with CBD to help promote relaxation in anxious dogs and encourage healthy sleep.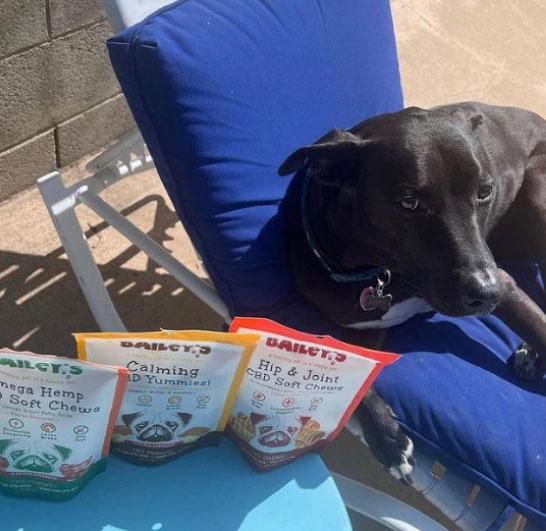 11. The Best CBD For Our Best Friends
We believe all pets deserve the best.
That is why Bailey's CBD products are third party lab-tested, veterinarian-formulated, non GMO, and made with USDA organic single-sourced full-spectrum hemp extract. Our hemp extract comes from a small family hemp farm in Colorado who hand harvests their hemp.
All Bailey's CBD products are made with love, transparency, quality ingredients, sustainable resources, and knowledge.
No matter what type of CBD pet product your pet prefers, give your pet the gift of proactive wellness. Don't wait until it's too late! Nip that pain in the bud for your best bud before it starts.
No matter what type of CBD pet product your pet prefers, give your pet the gift of proactive wellness. Don't wait until it's too late! Nip that pain in the bud for your best bud before it starts.
These statements have not been evaluated by the Food and Drug Administration. This article is not intended to treat, diagnose, or cure any condition. Please consult a licensed veterinarian before giving your pet supplements or starting new routines.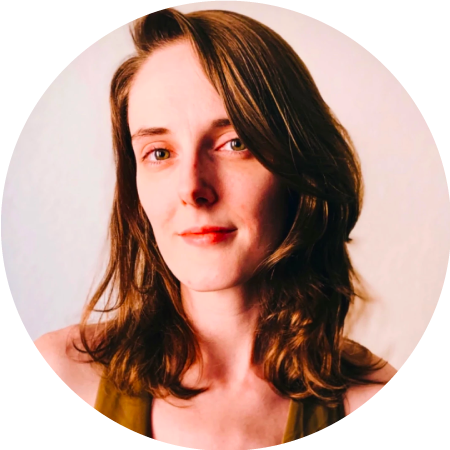 Article Written By:
Erica DeLoach
CMT | RYT 200 | MFA
Instagram: @vishuddhavision
Erica (they/them) is a non-binary disabled artist and educator passionate about creating accessible, inclusive, & equitable spaces. They are a certified massage therapist & TCM bodyworker, trauma-informed yoga teacher, voice coach, writer, cannabis educator, performing artist, media manager, and consultant.