CBD For Dogs:
⭐️⭐️⭐️⭐️⭐️"This CBD oil has been a great addition to my dogs' daily routine. It seems to be helping with the anxiety my older dog has developed. Definitely recommend." Katie M. (Massey, France 03/27/21) 
300+

 Verified 5 Star Reviews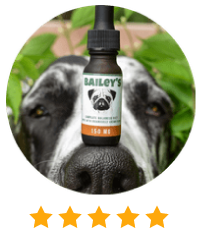 "We love using this oil product! It really helps with anxiety and pain/inflammation. With owning large dogs, we always used to worry about their joint health. When using Bailey's products you know they are getting the support they need!"
– Paddington B. (6/15/20)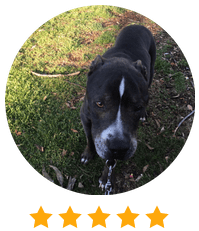 "Doc was rapidly failing. The vet said he had days. I was heartbroken, and I tried Bailey's oil and  I have ben amazed at how Doc has a new leash on life. His appetite is back, his discomfort relieved and we both couldn't be happier with Bailey"s!"
– Magic K. (3/31/2020)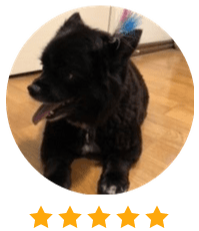 "My dog has Cushing disease and my vet recommended I give her Bailey's oil to help her. My dog loves the flavor and looks forward to getting it when she sees the bottle. Bailey's has been fast to deliver each time I've ordered. Thank you for being there when my dog has needed it."
–Janice D. (11/25/2019)
2019
California Cannabis Awards
CBD PRODUCT OF THE YEAR

Pets Over Profits
We work diligently to produce the highest quality products for your pets and will only sell products that we know are 100% safe.

Safe & Non-Intoxicating

We offer full panel label testing available on our website from biomass to final product, ensuring we source clean hemp that is safe.

Small Farm Sourced

We source all of our artisanal grade hemp from a small farm in Colorado that specializes in premium small-batch harvests.

Hand Harvested Hemp

Our full spectrum oil is made from hand-harvested, artisanal grade, organic plants from a small-batch Colorado family farm.

CBD Oil For Dogs
At A Glance
Bailey's Story
Our family business was started in 2017 in dedication to our 9 year old pug dog Bailey.
As a pet shop pug, Bailey is unfortunately predisposed to a number of health conditions.
So staying proactive in his long term wellness has always been a top priority.

Organic CBD Oil For Dogs
We feed Bailey a fresh food diet consisting of eggs, vegetables, white fish and sweet potato that we lightly cook at home.
Each meal is topped off with 1ml dropper of our CBD oil for dogs for proactive daily wellness.

CBD Dog Chews
We make cold-pressed, nutrient-rich CBD Soft Chews for Bailey's daily regimen.
In the morning he gets his chicken flavored Hip & Joint CBD Soft Chews to give him an extra pep in his step.
In the afternoon he gets his Omega Hemp CBD Soft Chews ensuring healthy fatty acids in his daily routine.
At night time, he gets his Calming CBD Yummies! to help him relax and get ready for bed.
Because Bailey is down to his last few teeth, we make our chewables soft enough and easy to digest for even the most sensitive of pups!
CBD Dog Topicals
We use our full spectrum hemp infused paw & balm to help keep the folds in Bailey's face moisturized, as well as his paws after we go on walks, and especially his nose (pugs are notorious for having dry noses!)

Baileys Hemp Source
Bailey's is partnered with Mother Moon Hemp Co. in Boulder, Colorado to source our full spectrum organic hemp extract.
Mother Moon Hemp Co. is a USDA organic 3-acre small family hemp farm that grows medicinal quality hemp rather than the less therapeutic industrial variety. 
They also hand-harvest & hang-dry their hemp, instead of machine harvest & drying like most bigger companies do.
Sure, this process costs more to produce, but this ensures our product's effective & medicinal quality.
Our subcritical C02 hemp extract is rich with a variety of minor & acidic cannabinoids, terpenes, & flavonoids for optimal therapeutic value.
Because Bailey's products are virtually free of THC, they will never have an intoxicating effect on your pet.
We make our products to support a happy and healthy pet lifestyle.

Veterinarian Formulated
Bailey's is partnered with a respected veterinarian in Colorado, Dr. Robert Silver, who has many years of CBD clinical research experience on cats, dogs and horses.
He has found that full spectrum CBD oil can be a great option for pet parents to help ensure our pet's live healthy, age gracefully, and feel more complete.
Bailey's products are made under the proper assurance and strict scrutiny of Dr. Silver, and each bottle of CBD oil we make comes with his easy-to-use guide.

Why We Set Our Standards So High
Our pets are not just our pets, they are our children, and they rely on us to provide the best for them.
That's why it is our goal as a company to partner only with people and other businesses that have aligned values and the best of intentions.
This helps ensure our products maintain the highest level of integrity and transparency from seed to sale, allowing us to fulfill our mission to help as many pets as possible!

What Is CBD and
What Does It Do For Dogs?
CBD is a cannabinoid, a chemical compound found inside the cannabis plant. It's non-psychoactive in nature, has a plethora of healing effects and is mostly derived from industrial hemp, which means it's 100% legal all over the world. Cannabinoids from plants fit into the mammalian body like a glove.
Here's why...
Our dogs (like all other mammals) have an endocannabinoid system (ECS), which is a network of cellular receptors and activators that has an important role in regulating body functions like mood, sleep, pain, memory, appetite, inflammation, nausea, stress levels and much more.
This system operates through chemicals called endocannabinoids, that the mammal body produces in order to maintain balance in this system.
Unfortunately, our furry friends are sometimes not able to produce some of these chemicals on their own, which puts their system, and certain processes inside it, in dis-balance. Endocannabinoids are successfully replicated and stimulated through cannabinoids found inside the cannabis plant.
Supplementing with cannabinoids such as CBD puts the mammalian endocannabinoid system in balance once again and helps put an end to many agonizing conditions which are affected by endocannabinoids misfiring.
CBD does this mainly by interacting with several receptors: TRPV1, 5-HTIA and GPR55. Shortly upon consummation, CBD activates TRPV-1 receptors and helps balance the body temperature, chronic or acute pain and inflammation.
When 5-HTIA receptors are stimulated, there is a significant increase in dopamine secretion, which produces antidepressant and anxiolytic effects.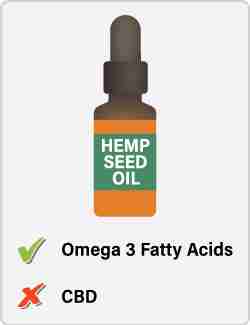 Before we can decide on the best CBD oil for dogs, we have to talk more about our options. For instance, what is the difference between hemp seed oil and other hemp extracts?
Hemp seed oil, is derived from the seeds of hemp plants. The seeds are pressed together, squeezing the oil out of them. The seeds are believed to contain no CBD, and potentially no THC, either. 
What we do know about hemp seed oil is that it's high in Omega 3 fatty acids, which can benefit the skin and may help prevent potential heart problems. If your pet has a paw-tential risk for heart problems, you may want to look into getting hemp seed oil for them for proactive benefits. However, if you are looking to give your pet CBD oil, this is not for you.
Unfortunately, Amazon, which is one of the largest e-commerce platforms in the world has a corporate policy that does not allow products that contain CBD to be sold on their platform, even from the hemp plant, although hemp is federally legal under The Farm Bill of 2018.
Amazon does however allow hemp seed oil products to be sold.
Many pet parents flock to Amazon looking for CBD oil for their pets only to find hemp seed oil products that say "hemp extract" and become disappointed when they find it doesn't help their pets' needs as expected.
Even though some products will say "full spectrum" on Amazon, do not fall for it. These product makers do this to dupe pet parents into thinking they are purchasing products that contain CBD because it is trending, when these products in fact do not contain CBD.
We'll get to what to look for when choosing a CBD product for your pet in the next sections...

Full Spectrum 
Hemp Extract
This is a whole plant extraction, preserving hundreds of beneficial compounds from the hemp plant, one of the main one's being Cannabidiol (or CBD). Others include therapeutic phytocannabinoids such as CBG, CBC, CBN, terpenes, flavonoids, as well as essential vitamins, minerals, omega fatty acids, chlorophyll, as well as trace amounts of THC (<0.3%).
All of these compounds have a synergistic interaction with each other (also known as the Entourage Effect) and the more that are present, the better. This improves the overall therapeutic value of the hemp based CBD oil. You will also notice that full spectrum oil can be murky, dark, amber or golden in color, depending on the extraction method used. You want to always look for full spectrum, cannabinoid-rich hemp products for your pets, like Bailey's CBD.
Note: Minor THC content can become diluted when made into final products so that it is either non-detectable, or at least less than 0.3% when lab tested. This helps ensure the final product is safe, non-toxic, but also effective and therapeutic for our pets in need.

This is CBD in its purest, crystalized form. This is a highly processed extraction, removing everything recognizable from the hemp plant except the molecule CBD. It is often found in the form of white powder, or crystals, and can be mixed into nearly anything. While CBD isolate is a pure form of CBD, it lacks other important therapeutic properties from the hemp plant such as minor cannabinoids, terpenes & flavonoids; which means there are less therapeutic properties in a CBD isolate product than in a full spectrum product. This also means that more volatile solvents are used to produce CBD isolate than full spectrum.

How Many Therapeutic
Cannabinoids Are In My Hemp Product?
Broad Spectrum
Hemp Extract
The overwhelming majority of all broad spectrum hemp extract is created using a fractionated distillation process, once the hemp plant is first extracted into full spectrum crude extract. The distillation process uses heat and pressure to separate the isolated cannabinoids & terpenes. Because heat and pressure is used, many of the therapeutic minor properties are burned off in the process. Also, the raw, acidic form of these cannabinoids, such as CBDa, CBGa, CBCa, CBNa, etc. are transformed via heat into their non-acidic state.
Dr. Silver has found in his research that these raw, acidic cannabinoids are highly therapeutic for pets, and can play a vital role in The Entourage Effect. Removing these acidic forms and the many other naturally occurring properties from the full spectrum hemp extract state reduces the therapeutic potential of the end product.
Many companies will use this fractionated distillation process because it is a sured way of removing any detectable amounts of trace THC content that may be present, although technically trace elements of THC will still be naturally present until processed even further into an isolated state. The victim in this process becomes the burned off terpenes, minor cannabinoids, and other naturally occurring properties that all add tremendous value to The Entourage Effect. What many overlook, is the fact that this is a highly processed extraction method, and there is a better way.

How Processed Is
My Hemp Extract?
A Better Way For
Our Pets In Need
For ingestible and topical products, there is a less processed and safer method that can be used to dilute the THC level of a full spectrum hemp extract, using ingredients like hemp seed oil, or MCT coconut oil, which is the method we prefer here at Bailey's. Depending on the level of dilution, THC content can usually be remediated to a non-detectable state, or at least less than 0.3% THC, while retaining all of the naturally occurring properties from the hemp plant, including their acidic states, providing maximum therapeutic potential. Dr. Silver has found over many years of research that minor amounts of THC (<0.3%) can add tremendous therapeutic value for our pets in need, and can be safe & non-intoxicating when used under proper guidance. This is why every bottle of Bailey's comes with Dr. Silver's easy-to-understand suggested use guide.

What Are The Health Benefits

Of CBD For Dogs?



CBD has shown to be very effective for your dog's overall health as well as some specific medical conditions.
So, even if your best friend does not suffer from any specific condition, it is perfectly fine to give them CBD as a prevention or just as a daily supplement.
However, hemp CBD can also be used alone as a holistic method of treating certain conditions or in addition to other medications for a number of different conditions and symptoms.
Let's break this down in more detail.

10
Potential Benefits

 of Full Spectrum CBD for Dogs
✓

Pet's Long Term Health Comes First

✓ 

Feed Well Balanced Diet w/ Quality human-grade Ingredients
✓ 
Give CBD Before Problems Occur
✓
Pet Lives Healthier & Happier
❌ 
Pet's Long Term Health Of Little Concern
❌ 

Feed Inflammation Inducing Diet w/ Highly Processed & Often Questionable Ingredients
❌ Frequent Vet Visits ($$$$)
❌ Pet Not As Happy & Healthy
Bailey's CBD
Oil For Pets
Purchase Guidance
✓
Partnered With Licensed Veterinarian (Dr. Robert J Silver, DVM, MS, CVA)
✓
No Unnecessary Ingredients
✓
Easy To Use - Veterinarian Recommended Use Guide w/ Product
✓
Pet Expert Support Line (844)PETS-CBD
❌ Lack Of Veterinary Knowledge
❌ May contain unnecessary ingredients (sugar, stevia, artificial flavorings, etc.)
❌ Difficult to dose w/ confidence
❌ 

Limited Product Support
FAQ'S
How Does Full Spectrum CBD Work?

All dogs and cats have a bodily system (ECS) which regulates pain, mood, immune system, skin & gut health and more. The compounds found in Bailey's all natural CBD products help to create homeostasis (or balance), which can help our pet's age gracefully & feel complete. 
What Is A Full Spectrum CBD?
A full spectrum CBD contains the full spectrum of 100+ compounds naturally found in our plant ingredients. Researchers have named the "entourage effect" which basically shows a synergistic effect when these natural compounds are found together versus when they are chemically isolated. Bailey's is a full spectrum CBD. 
Is Bailey's CBD Safe For Dogs and Cats?
Yes, Bailey's full spectrum plant CBD is made from certified organic plants and lab tested at a third party state licensed facility to ensure all products are safe for animals. Always consult with your veterinarian before using Bailey's CBD products.
How Much CBD Should I Give My Anxious Dog?
Our team of veterinarians recommend 2 drops of Bailey's CBD per 10 lbs of pet weight. Each bottle comes with our vet's 3-tier use guide with easy to follow supporting images to help make navigating this as easy as possible! Some pet's may need to scale use, please follow our vet's included product guide!
Can Bailey's CBD Calm a Restless Dog or Cat At Night?
All dogs and cats have a natural regulatory system in their bodies called the ECS, which is responsible for regulating many processes, including sleep and our pet's circadian rhythm. The natural plant compounds found in our CBD interacts with a dog & cat's ECS to help regulate & improve sleep.
Can Bailey's CBD Help My Dog Or Cat's Appetite?
All dogs and cats have a natural regulatory system in their bodies called the ECS, which is responsible for regulating appetite. The natural plant compounds found in Bailey's CBD interact with a dog and cat's ECS to balance appetite. This can result in an increase in appetite (for light eaters) or a decrease in appetite (for heavy eaters).
Can Bailey's CBD Help Or Cause Diarrhea In Dogs or Cats?
The ECS is responsible for regulating gut and digestive health in all mammals. Our CBD interacts with the ECS to improve gut and digestive health. Bailey's CBD does include coconut oil which has been known to upset light stomachs. It is rare but it does happen. We recommend scaling back the dosage if this happens. This is usually very temporary as well. 
Where Is Your Hemp Sourced?

Our CBD pet topicals are made from all natural ingredients including our non-GMO, phytocannabinoid rich hemp that is USDA organic small family farm sourced, grown with love and hand harvested in Boulder, Colorado on a 3-acre small family farm. 

How Is Your Hemp Extracted?

We use a subcritical C02 process to extract our whole plant USDA organic CBD-rich hemp extract.
Does Bailey's Have A Satisfaction Guarantee?

Every order is backed by our 30 day satisfaction guarantee, so you can buy with confidence.

Does Bailey's Help Rescue Organizations?

You can feel good about your purchase because Bailey's donates 1 bottle of CBD oil for every 4 items sold to a rescue in need.
How Can I Contact Bailey's If I Have Further Questions?

At Bailey's we are committed to educating our customers on why this plant extract is so beneficial for our pet's wellness. For more information on how CBD may be able to benefit your pet, please email us at [email protected] or call use anytime at 844-738-7223.