Create A Calm Home With CBD For You & Your Dog
Posted by Jay O'Keefe on
Cannabidiol (CBD) products are rising popularity for both people and pets, with owners and veterinarians alike considering it as a safe alternative to medications for the treatment of many conditions. People have been using it for a wide range of ailments from chronic pain and inflammatory conditions to anxiety and insomnia.
Now, research supporting the benefits of CBD for pets is growing – and promising – but it's still best to work with your dog's veterinarian, if they are familiar with CBD, before trying CBD products for your pet.
Here, we'll discuss the use of CBD for both you and your dog, the safety of using CBD for dogs, and whether CBD is the best choice for you and your dog.
There are three main types of CBD tinctures: isolate, broad-spectrum, and full-spectrum. CBD isolate is hemp extract that only contains CBD and nothing else. Broad spectrum CBD is hemp extract that is mainly CBD, but also contains other cannabinoids such as CBG and CBN with minute levels of THC. Full spectrum is hemp extract with all of the plant's compounds – cannabinoids, terpenes, and flavonoids – available for your body to reap the wellness benefits of.
By creating a blend of all of these compounds to make one simple solution of a product, Elevar Wellness offers you everything hemp has to offer. CBD tinctures are an easy, precise, and fast-acting way to add CBD to your daily wellness regimen.
People have been using CBD tinctures for years to help with a variety of ailments and health conditions, ranging from anxiety to chronic pain, but some people use them for overall, general wellness.
A 2022 survey reported 62% of U.S. adults use CBD for anxiety and stress. An additional 60% reported using CBD primarily for pain relief. Other people indicate using CBD for insomnia, migraines, seizures, and inflammatory conditions.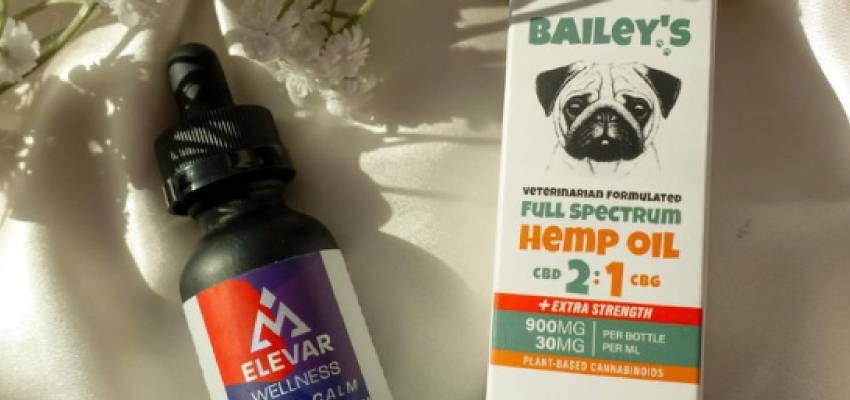 3. Best CBD Produts For Your And Your Dog
CBD products come in three varieties:
Full-Spectrum CBD: Contains all of the compounds naturally present in the hemp plant, which includes up to 0.3% THC.
Broad-Spectrum CBD: Contains all of the compounds naturally present in the hemp plant,
except for THC.
CBD Isolate: Pure CBD compound without any other compounds from the hemp plant.
There are CBD products for both you and your dog, so you can both benefit from adding CBD to your daily wellness routine.
Elevar Wellness & Bailey's CBD Small Dog & Human Tincture Bundle: Includes one bottle of Bailey's 150mg CBD Oil For Dogs and one bottle of Elevar Wellness Citrus Calm 1000mg CBD Oil For Humans
Elevar Wellness & Bailey's CBD Medium Dog & Human Tincture Bundle: Includes one bottle of Bailey's 300mg CBD Oil For Dogs and one bottle of Elevar Wellness Citrus Calm 1000mg CBD Oil For Humans
Elevar Wellness & Bailey's CBD Large Dog & Human Tincture Bundle: Includes one bottle of Bailey's 600mg CBD Oil For Dogs and one bottle of Elevar Wellness Citrus Calm 1000mg CBD Oil For Humans
When using a CBD tincture, keep the oil under tongue for 30-90 seconds to allow for maximum effect. If you swallow the CBD oil right away, then the compounds have to travel through your digestive tract, which means waiting a much longer time to feel any effects.
By taking it sublingually (under the tongue), the CBD oil is first absorbed by the blood vessels in your mouth, causing it to work faster – typically within 15 to 30 minutes. The effects generally last six to eight hours when taken this way. Eating food when you take your CBD oil may help speed up the effect, due to some of the CBD going through the digestive tract. Eat something with high fat content, such as eggs, peanut butter, or avocado. Taking CBD oil on an empty stomach could delay the onset of the effects.
Remember to always start low and go slow, regardless of your reasons for using CBD.
4. Using CBD Oil For Dogs
CBD oil has shown to be beneficial for dogs with a range of health conditions. Using CBD oil for dog health problems is effective because of the body's endocannabinoid system, which facilitates and maintains all of the body's physiological processes and homeostasis.
Just as with humans, CBD for dogs does not cause a "high" or any type of euphoric sensation. Some people, on the other hand, do claim their dogs seem a bit out of it after ingesting CBD oil. If your dog seems a bit "stoned" after being given their dose, there is a potential reason for this.
Prior to giving your dog any type of CBD product, check the label for information on its ingredients. If the CBD oil is labeled as a "Full-Spectrum" product, then that CBD oil may contain up to 0.3% THC – the legal limit.
This seemingly minute amount may potentially be enough to cause a side effect of this type in your dog, especially if their body chemistry happens to be sensitive to that cannabinoid.
Generally, the side-effects of using CBD oil for dogs are similar to those of using CBD oil for humans. The most common side-effects of CBD oil for dogs are: appetite fluctuations, drowsiness, and diarrhea.
Typically, the higher the CBD content is in the CBD oil, the more likely your dog is going to experience these side-effects. While they are not generally considered to be life-threatening, they are highly unpleasant.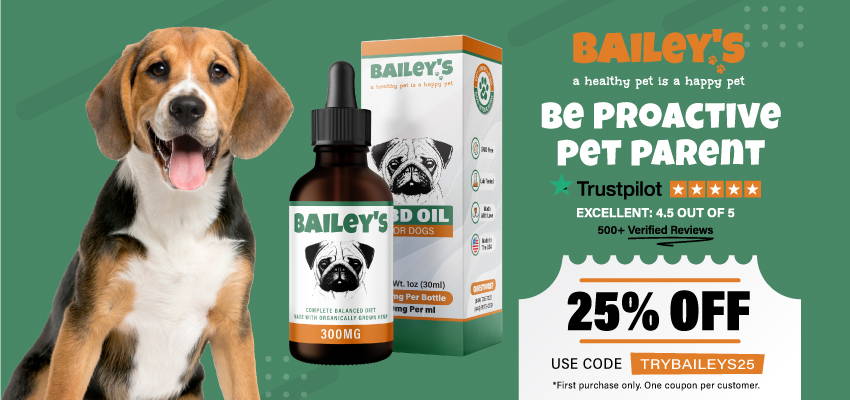 5. Giving Your Dog CBD Oil
If your veterinarian gives the go-ahead on using CBD oil for your dog, there are several CBD oils for dogs available. Those listed above are a great starting point!
Bottled CBD oil for dogs come with droppers that make dosing easier, especially as you want to increase the dose (if needed) slowly, rather than being restricted to a set amount every dose like with capsules or treats.
Just as with people new to CBD oil, it's imperative that you start your dog on a low CBD oil dose and then gradually increase it, if needed. The instructions on the bottle will tell you the recommended dosage for their body weight category and breed. If your dog does not experience the effects or noticeable symptom relief within 30 to 60 minutes, you may need to give another dose of the same amount and continue to observe how they are affected.
6. Reasons To Give Dogs CBD Oil
CBD oil has been proven to help dogs with a wide range of ailments, that include, but are not limited to: inflammation, anxiety, pain, nausea, and seizures. However, just as with people, every dog has a slightly different endocannabinoid system and body chemistry, so CBD oil may be more effective for some dogs than for others.
Your dog is not able to just tell you what's bothering them or when they are starting to feel better, however unfortunate that may be. You must rely on observation of their body language and their behaviors.
After you've given your dog their dose of CBD oil, watch your dog closely for any symptoms improving, staying the same, or worsening. Depending on the reason for giving your dog CBD oil, such as for pain as opposed to anxiety, relief of your dog's symptoms may be noticeable in as little as 30 minutes, or it could take a few weeks of consistent and daily CBD oil use.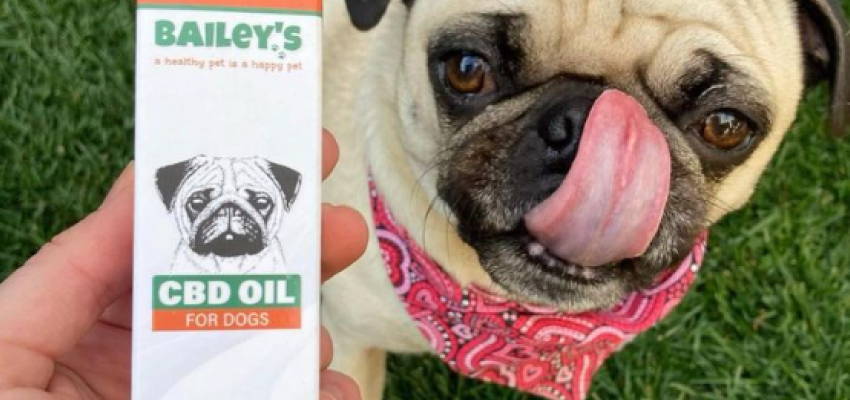 7. Elevating Wellness With CBD Oil For You And Your Dog
CBD affects every human and every dog differently. You may wind up trying several CBD brands, CBD oil doses, or forms of CBD pet products to find out what works best for your dog's needs and preferences, as well as your own.
While you may need patience and consistency to find just the right CBD oil for humans and dogs, it is well worth that effort to see your dog running around and being their happiest, four-legged self.
Bailey's CBD is committed to making the highest quality, best CBD for pets. From the growing to manufacturing process, our hemp for pets is handled with the utmost care and knowledge. Bailey's pet CBD products are all natural, contain no additives or preservatives, and made with organically-grown hemp that is hand harvested and hang dried.
9. USDA Organic Hemp for Dogs
Our subcritical C02 full spectrum hemp extract is single-sourced from our USDA organic small family farm partner Moon Mother Hemp Co. in Boulder, CO. They're known for growing medicinal grade hemp instead of the less therapeutic industrial variety
10. MCT and Hemp Oil for Dogs
Bailey's single-sourced hemp extract is combined with fractionated coconut oil (MCT oil) - one of the most effective mixing agents for CBD hemp extract for pets. Medium chain triglyceride (MCT) fatty acids contain healthy saturated fats, and coconut oil has many benefits for dogs. These include helping coat health, itchy skin, allergies, digestion, immune function, and flea & tick prevention. Simply place hemp oil for dogs on a paw to be licked off, in food or treats, or directly in the mouth.
Bailey's CBD oil for dogs comes in multiple strengths. Our dog CBD oil is calibrated at 10mg/ml for our regular strength oil and 30mg/ml for our extra strength 2:1 CBD:CBG oil. Our pet CBD products are all veterinarian-formulated by Dr. Silver and come with his guide for dosing and suggested use.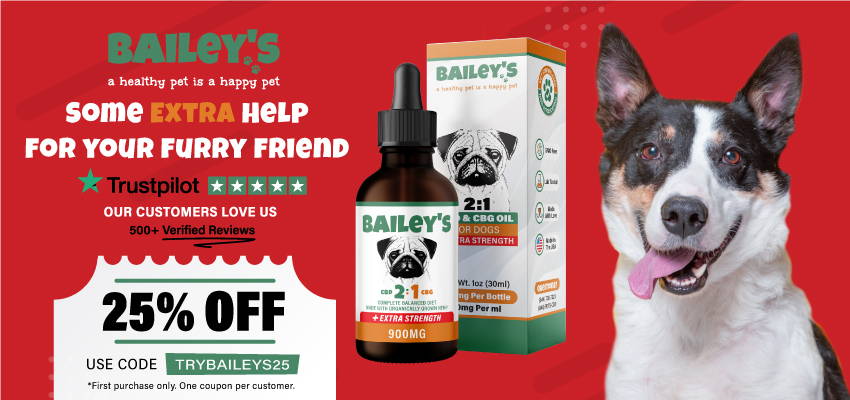 12. Bailey's CBD for Pets Lab Testing
Offering CBD dog chews, hemp oil for dogs, CBD oil for cats, hemp pellets, CBD pet shampoo, and a dog CBD balm, Bailey's CBD for pets products are all third party lab tested. Each product has a lot number and QR code for certificate of analysis results for easy, transparent access.
We work tirelessly to make sure your dog is as happy and healthy as possible! We care about making hemp for dogs that is pure, effective, medicinal, and delicious.
These statements have not been evaluated by the Food and Drug Administration. This article is not intended to treat, diagnose, or cure any condition. Please consult a licensed veterinarian before giving your pet supplements or starting new routines.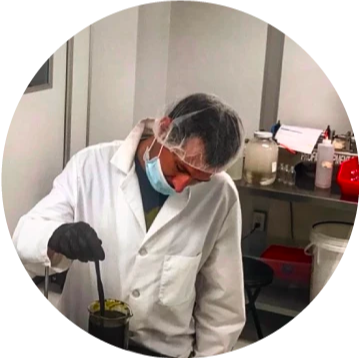 Jay O'Keefe III
Founder | CEO
Instagram: @jay_okeefe
For five years, Jay worked at a hemp extraction lab in North San Diego. One day he decided to formulate a hemp oil tincture for pets, and the feedback was overwhelming. In October 2017, Bailey's was incorporated with the adorable face of Jay's pug Bailey as the logo.